Access City AM's agile business special report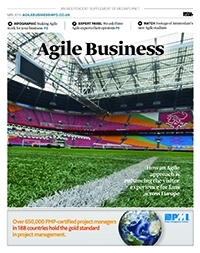 APM featured in an agile business special report today in London's business paper, City AM.
If you were unable to get hold of this supplement, you can access all of the content online. 
City AM has a readership of 399,000 professionals across London and the Home Counties and this special supplement had a particular focus on agile project management. 
APM Planning, monitoring and control specific interest group chair Stephen Jones took a look at the effect and value of agile using his work as a project manager at Sellafield Ltd as an example. He argued that agile is "not a replacement for project management" because it "enhances how projects and programmes run."
It was also noted that Stephen is involved in the upcoming APM guide on Planning, Scheduling, Monitoring and Control: The Practical Project Management of Time, Cost and Risk due out this summer.
APM chairman Steve Wake featured on an expert panel to give his insight into agile including what barriers he sees to business' becoming more agile,  how he sees agile developing within project management as well as the advantages of the method. 
APM member Linda Lloyd implements agile practice within the aerospace and naval manufacturer Thales and discusses the challenges in adopting agile within a regulated environment from her own personal experience. 
APM's coverage in City AM follows a recent report on project management in the Sunday Telegraph's Business Reporter. 
Additionally, last September saw APM provide an article for Raconteur's special report on project management which appeared in The Times. APM appeared in Raconteur's Agile Business report in October that was also published in The Times. An article on good project governance featured in the strategy edition of Business Reporter and was distributed in the Sunday Telegraph in November. In the same month APM was part of City AM's special report on project management.