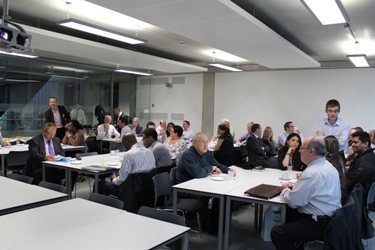 PMOSIG Local Meeting 27th June 2013
Held at Manchester Metropolitan University Business School
It was thanks to the team at the Business School once again for providing such a great venue for the Manchester PMOSIG local meeting. At this evening's meeting we decided to go with a topic which is high on the agenda for most PMOs and where there are no clear answers… yet!


Ahead of the Curve PMO was an evening of discussion and debate – something that PMO professionals are known for when they get together – and we focused on the age old issue, PMO's need to get better at managing data and presenting information that's accurate, in real-time and actually gets read.
We had Mark Walsh with us for the evening, a seasoned pro in PMOs with experience across all sectors over the last twenty years. Mark opened with PMO status reports are boring, PMOs are just "cut and paste" merchants, the information we provide is just blah, blah, blah…..

The idea of the evening was to address the issues we have – and think about how we can move away from old traditions and bring our PMO reporting into the 21st. It's going to take a significant mindshift to move away from templates ("kill templates!") and into the realms of real-time reporting of just the headlines. In fact the quote of the evening for me was, "we report the news – we don't make the news" to reflect the fact we should be focusing on the data that's already there and available from PMs without having to mine further data just to fit the status report templates we have – even though they're boring and unread.
It was an interesting evening with a lot of discussion – but as yet no real utopia exists in any of the PMOs that were represented in the room. We will be looking at this subject again – especially as social media and mobile communications continues to infiltrate our everyday lives. As one member commented, 'there was a point when we used to go to work to use the latest technology; now it seems that we're advancing much more quickly in our private lives. Our technology use at work has fallen behind the times"
Take a look at Mark's presentation with full notes available; we've taken our first steps on the curve but there will be plenty more to come.