An evening being lazy with APM London branch
Well not quite being lazy but members of the London branch were shown the art of productive laziness by Peter Taylor who gave his very popular presentation The lazy project manager which explained the productive lazy approach to projects and how to apply these lessons thereby being twice as productive and still leave the office early.

Peters presentation covered the definition of productive laziness, the science behind the theory (yes there really is some) and gave some humorous examples and personal experiences which lead to the creation of the lazy project manager.
Such positive comments as outstanding presentation that kept the audience captive throughout with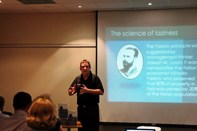 interesting and relevant content, feel I already know most of what Peter says but it was very well presented and good for up and coming PMs and very good presenter, funny and engaging, useful and relevant content reflected on how well Peter was able to explain in detail and take away the myth that the concept was a new innovation.

Peters presentation can be viewed at the link below.