APM Conference 2017: A turning point
APM's award-winning Project Management Conference, held at the world-famous Barbican Centre in London, played host to the largest number of delegates ever in attendance to explore what the future holds for the profession. Attendees were challenged with how we can 're-make the mould' to allow our future projects to thrive.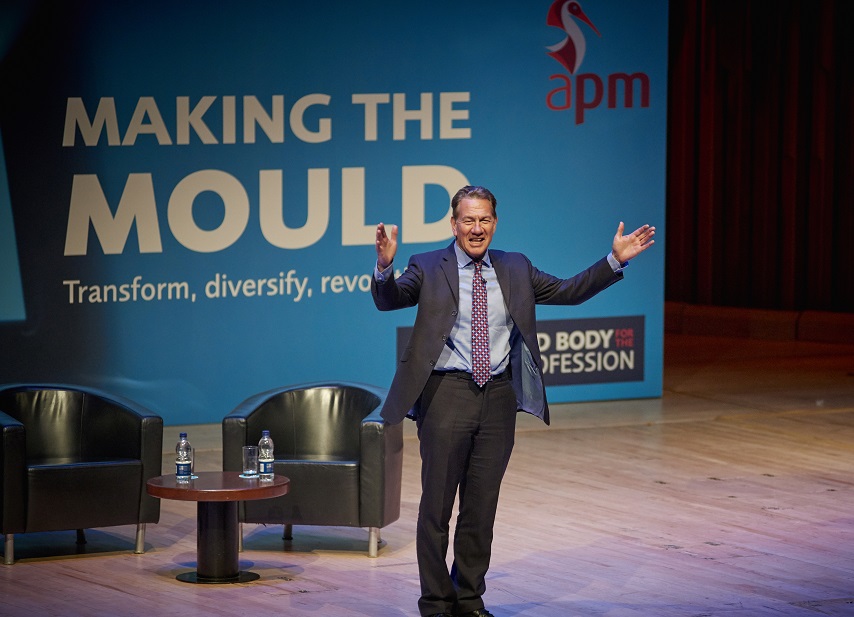 Launching the day was APM president and Managing Director Group Digital Railway, David Waboso. His initial observation was that "the pace of change is incredible but we must, and can, use it to our advantage."
David set the theme for the day as well as launching APM's new range of thought leadership papers, briefing documents and research papers, now available online in the APM library.
The theme of a positive and challenging future continued throughout the day. There was no ambiguity around the fact that, as a profession we are a turning point, our skills are in demand more so than ever before and, backed by Chartered Status, we are at a time of increasing enlightenment. 
The day saw keynote speakers, including Britain's 'best head teacher' Sir William Atkinson and former cabinet minister the Rt Hon Michael Portillo draw on their experiences from the education sector and ministerial offices to highlight the challenges and pressures of delivering change and projects in challenging environments.
Sir William's motivational and thought-provoking presentation left spirits and ambitions high. His anecdotes from delivering change and turning once desperately failing schools around proved what can be done through strong leadership and a world class mind-set. 
Michael Portillo's humour and engaging speech reflected on past experiences of delivering Apache Helicopters and the challenges faced when delivering projects through Government's complex structure drawing on past events to develop a better understanding of what could happen throughout the withdrawal of the UK from the EU.
Through panel discussions, stream speakers and interactive sessions the conference explored what the future mould might look like for our new generation of professionals; what skills they would need and what kind of projects they would be delivering.
Videos from the conference and further collateral will be made available shortly.
APM would like to thank all speakers, sponsors and those involved with the conference for making it an exceptional success.
Listen to David Waboso and view other conference videos: