APM described as 'innovative and creative' by award judges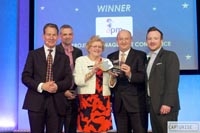 "Innovative and creative," that is how chief executives of leading associations described APM at last month's Association Excellence Awards.
The judging panel who named APM as Best UK Association and Best Association Conference in London put APM's award-winning formula down to "clear target setting" and a desire to "constantly improve."
They went on to describe APM as: "Excellent, innovative, services in evidence, coupled with a desire to both constantly improve and secure feedback from members on how the association is doing."
The awards, which celebrate excellence in serving members of professional and trade associations, are assessed by heads of leading professional bodies including Institute of Library and Information Professionals, Chartered Institute of Public Relations and British Dental Association.
These highly-coveted accolades are testament to everything APM has achieved as the association experienced another record-breaking year. The judges' comments also resonate with APM's ambition to continuously innovate for the good of the project management community.
APM chairman Steve Wake said: "It goes without saying that this represents a major achievement for APM and for me a personal highlight of my time as APM chairman. We are almost unique in that APM truly is a collaboration of professional staff, volunteers, specialist suppliers, trustees and friends.
"The judges' comments reflect how APM will not stop challenging, chasing and improving. Listening, learning and leading. It is what has won us these awards and will inspire us to achieve more right through to 2020 and beyond."
The 2014 APM Project Management Conference was also recognised as the Best Association Conference in London.
The judges said it was "an outstanding submission, clearly highlighting the improvements made as well as the tight control of costs resulting in increased overall revenue. Clear target setting and goals, good research and creative marketing led to a lively and animated event."
APM president Tom Taylor was interviewed by the event organisers along with Scott Walkinshaw, APM head of marketing and communications, and APM Conference chairman Mary McKinlay to get their thoughts on winning the awards.
Claire Wormsley, managing director of the Global Conference Network who organised the awards, said: "We are extremely proud of the launch of Association Excellence Awards, the number and calibre of entries has been extremely high. We are delighted to recognise the hard work of all those who work in trade and professional associations."