APM ebooks available on Amazon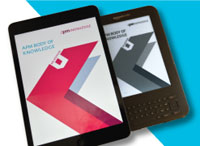 Project professionals can now access all of APMs core publications on their tablet, e-reader or smartphone. Following the successful launch of APMs Body of Knowledge 6th edition as an ebook last year, the remaining titles have been added to APMs Amazon account.
The titles, which include best sellers such as the Project Risk Analysis and Management (PRAM) 2nd edition as well as the complete SIG Guide collection, can be read on most devices, not just Kindle. Simply download the free app to read Kindle ebooks on most Android and Apple devices.
All ebooks are typically priced lower than their printed counterpart, with savings of up to 40% in some cases.
The move is the latest in a series of initiatives aimed at growing APMs digital offering. Last month saw the associations entire backlist made available to rent from leading etextbook provider Coursesmart. This will be followed shortly by the wider distribution of epub editions, specifically designed for popular e-readers such as Nook, Kobo and Sony readers.
APM publishing manager James Simons said: Our aim is to make APMs library of publications available to as many people as possible in as a many different ways as possible. Digital is obviously a huge part of that as more people look to access their content on tablets or e-readers.
The beauty of ebooks is that the text is reflowable, not static, meaning the content is easy-to-read and navigate on any device, no matter how small.