APM Hong Kong branch celebrates it's 25th Anniversary
To commemorate the 25th Anniversary of the APM Hong Kong branch a special dinner was held at the Hong Kong Jockey Club on 19 January 2017. It was a well-supported event by branch members and guests who enjoyed the excellent hospitality offered and celebrated the announcement of the Royal Charter.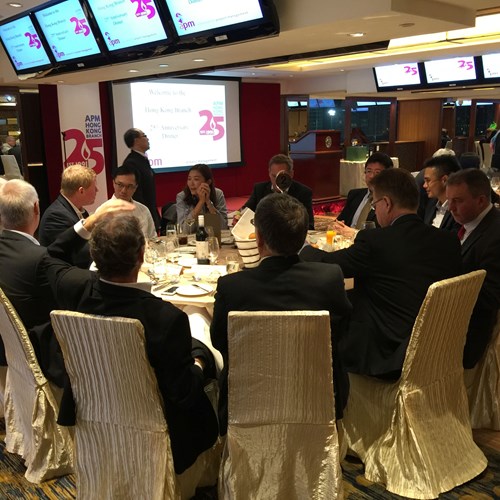 The event began with a briefing on a century-long history of project management by Steve Root, the branch chair, in which the audience gained a better understanding of the development of, and the importance attached to, the proper management of projects. The opportunity was taken to celebrate the achievements of the past 25 years with several mega-projects in Hong Kong, such as the third runway, MTR, XRL, and the West Kowloon Cultural District (WKCD) project.

WKCD is one of the largest arts and cultural projects worldwide.  It is a world-class venue for the Chinese opera performances and cultural facilities with 23 hectares of public open space. We were most fortunate to have its Chief Executive Officer, Duncan Pescod, GBS, JP to share his experience in the planning, construction, artistic programs and his engagement with this challenging project. 

The audience appreciated the interesting presentation and the delicious food; the Boston lobster bisque and roasted US rib eye, in particular.  The evening culminated with a generous donation of about seven thousand Hong Kong dollars from the attendees to the Children's Heart Foundation for children suffering from congenital heart disease.