APM looks to create a world where all projects succeed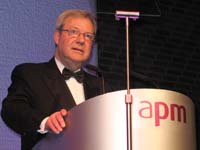 All projects succeed. This is the future vision for APM and the profession as a whole, which was unveiled by Mike Nichols, APM chairman (pictured), at the APM Project Management Awards on Thursday 20th October 2011.
The APM Board of Trustees undertook some forward thinking and have developed a vision and strategy that was widely consulted with those in the branches, SIGs, corporate organisations and within government. Mike said: The strategy sets an agenda that is uncompromisingly ambitious, creative and radical. Yet it can be encapsulated in just three words: all projects succeed that is to create a world in which this is taken for granted.
We will not achieve this vision alone. Our members, friends and partners, many of whom are with us tonight, are already playing crucial roles in working towards just such a world.
An example of this collaboration is where APM have worked within the membership to produce guides such as Directing Change, the Governance of Project Management. A second edition update to the seminal publication from the APM Governance SIG was launched during the same day of the awards at the APM Conference.
Mike went on to say how APM are collaborating with other professional bodies and learned societies: We are delighted to announce a memorandum of understanding to forward the profession with our friends at the Chartered Institute of Building. That adds to similar arrangements with other such organisations, including RICS, ICE and several other national associations through our membership of the International Project Management Association.
APM continue to work with their corporate organisations and have developed a brand new award category for next year. Mike said: We are working with our corporate partners, and can announce the launch of a new award for 2012, sponsored by Shell, recognising the vital contribution of the management of health, safety, security and environmental issues in the successful delivery of projects.
Mike then went on to uncover some really exciting news for APM and the profession. He added: We are engaging with Government, and can announce that APM is proud to support the Olympic Delivery Authoritys Learning Legacy by becoming the project and programme management dissemination partner for the lessons learnt from the outstandingly successful London 2012 construction programme.
2012 is a landmark year. It is the Queens Diamond Jubilee; we have the London Olympics; and, particularly for the association and the project management profession as a whole, the APM will be celebrating its 40th anniversary and will launch the APM Body of Knowledge 6th edition - a collaborative project involving over 1,000 people.
A topic that always remains at the forefront of peoples thoughts is the progress of APMs application for a Royal Charter. This still remains a priority for APM as the association continues along their well-supported route. Mike said: As Chairman of the APM, I have always believed that our profession, and our association which represents it, must be ambitious and creative in its vision and positive in everything it does.
That ambition is demonstrated by our campaign to achieve Chartered status on behalf of the project management profession. Our commitment to this is absolute. We respect the need to follow due process and infuriatingly frustrating though it is, we must therefore maintain our dignified silence, however uncomfortable this is for the profession and for APM.
We are absolutely confident that the unprecedented support offered by the profession and stakeholders across public and private sectors, together with the unremitting drive of the directors and officers of the association, will deliver the result the profession needs and deserves before long.
Chartered status will enable us to show even more clearly our commitment to better standards of project and programme management. That is why, in March, following my announcement at last years awards, we launched the new APM Registered Project Professional as the gold standard for assessing and demonstrating project management competence. Over 170 people have attained the standard to date, which is gaining considerable attention amongst organisations across the profession.
In conclusion Mike said: There is much to celebrate within the profession. To all the winners and finalists, we congratulate you; and to our partners, we thank you for your support. We look forward to working with you in the future and towards a world in which all projects succeed.