APM Women in Project Management & WeAreTheCity celebrate IWD at 'Is That Your Final Offer?' event, 8th March 2016
Celebrating International Women's Day on 8th March, APM Women in Project Management SIG held their 'Is that your final offer: exploring negotiation and decision making' event, last night.
Taking place at etc Venues in Hatton Garden, everything from negotiation skills and decision making to gender parity and tools and techniques to help you get what you want, was discussed.
APM WiPM Chairwoman, Teri Okoro opened the event to a crowd of over 90 attendees, with an introduction to negotiation and how we can use these skills in everyday situations, both personally and professionally. Speaking of the partnership with WeAreTheCity, Okoro said APM were "really excited to collaborate with like-minded people."
Okoro drew upon the mistakes that women often make when it comes to negotiating such as not aiming high enough or not wanting to say no. Ending her introduction, she reminded delegates that, "you are worth it."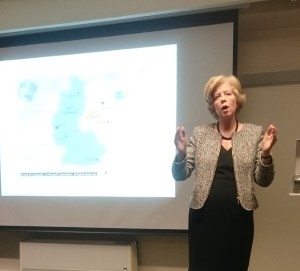 Former UK diplomat Claire Smith followed, sharing her extensive negotiation knowledge and experience. Smith's first role involved negotiating between West and East Germany and has since worked in China, London, Pakistan. In the theme of International Women's Day, she said, "Never, ever let anyone say you can't do this [negotiation] because you are a woman."
The audience then posed questions to a panel of experts including Sara Drake, Chief Executive at APM; Vince Hines, Managing Director at Wellingtone; and Claire Smith, CH Smith Consulting Limited. Topics ranged from how to find the right time to negotiate, negotiating across cultures and negotiating without damaging established relationships.
With it being International Women's Day, parity and gender equality was the topic on everyone's mind.
Speaking about the gender pay gap, Drake said, "I firstly don't believe that a single action will help the pay gap. We've made a start but more needs to be done."
She went on to state that parental leave needed to be improved, alongside the question of flexible working, claiming "something has to be done to remove segregation of women in the workplace." She also suggested that their organisations needed to ensure they had a clear pay and reward scheme.
Imploring the delegates to take a stance on gender parity, she said, "We all have a responsibility – put pressure on your organisations."
The WiPM was founded in 1993 as a forum for women to develop their skills and network. It's mission develop the profile of women working within the project management industry; to promote a no-barrier culture; build a collaborative community and network with project professionals.
Alison Fearn
We are the city
They have very kindly allow the material used during the presentation to be made available for viewing in our APM resource catalogue here and also below.