Apply for the IPMA Project Excellence Awards 2014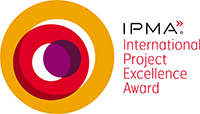 The IPMA awards showcases excellent projects from different industries and organisations worldwide. Excellent projects are recognised by going through the annual assessment process based on the IPMA Project Excellence Model. This year IPMA would like to invite your company to take part in this prestigious event and celebrate your success at the 28th IPMA World Congress in Rotterdam.
As an applicant you benefit from:
Recognition. Applicants are assessed against global projects of a similar budget and complexity.
Experience exchange pass. Share your experience and knowledge of Project Excellence with other applicants.
Assessment process. Give yourself a chance to be evaluated by a group of international assessors who grade your project by adapting a unified model the IPMA Project Excellence Model.
Benchmarking. At the end of the process receive a detailed Benchmark Report prepared by group of best international PM professionals giving valuable feedback against comprehensive criteria.
As a winner you gain:
Prestige. Winners can use the prestigious IPMA Project Excellence Award logo for company documents and publications and be recognised as one of the most successful project teams worldwide.
Motivation for your team. Celebrate your success at the Gala Dinner held in Rotterdam.
IPMA World Congress. The chance to be where the entire project management world is and demonstrate the project excellence of your team and organisation.
For more details and to apply visit the IPMA website or contact the Award Office