Apprentices support growing needs of nuclear sector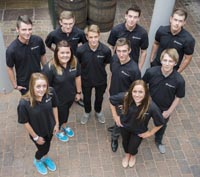 Sellafield Ltd appreciates the importance of maintaining and sustaining a strong project management workforce. That is why the company responsible for safely decommissioning the UKs nuclear legacy has recruited 10 project management Apprentices as part of the Association for Project Managements Higher Apprenticeship scheme.
This number is expected to grow as both Sellafield Ltd and the Nuclear Decommissioning Authority (NDA) fully commit to investing into the next generation of project professionals to support the growing needs of the nuclear sector.
Sellafield, the first NDA site to implement this new Higher Apprenticeship scheme developed by APM and Skills CFA, believes it is absolutely vital to organically grow the workforce and invest in the future.
Loren Redmond, Sellafield training manager and programme owner of this scheme said: This Apprenticeship scheme is a welcome opportunity to invest into the next generation of, not only project managers, but risk managers, project control managers and other supportive functional areas. Successful delivery of major projects, with a commitment to safety, remains essential to Sellafields mission. The Higher Apprenticeship scheme supports this mission by developing strong project leaders for the future.
It is also a great opportunity to attract new talent into this industry and for our new generation to choose project management as their number one career choice".
Although the APM Higher Apprenticeship is a two year scheme, Sellafield Ltd has extended the duration of it to four years. This will allow Apprentices to gain in-depth practical experience across a wide range of project deliverables and successfully integrate between varying project functions. The company feels the scheme not only offers short to medium term benefits, but also real long term sustainability.
Placements will be spread across the Sellafield site covering a wide range of major projects, from multi-million pound new build construction facilities to dealing with legacy waste and material within hazardous environments.
There are also many socioeconomic benefits to be gained through the introduction of this Apprenticeship scheme. Local young people are offered an opportunity to, not only gain employment, but acquire a qualification through this on-the-job learning programme. The company is also very keen to maintain strong links with the local supply chain through training facilitation and recruitment. By collectively working with the supply chain to widen this Apprenticeship further will fully support the future of the nuclear sector across the UK.
Both the NDA and Sellafield Ltd are fully committed to supporting the Governments initiative of increasing the number of Apprenticeship schemes to open up new opportunities for the next generation. Sellafield Ltd have witnessed a substantial increase in the number of Apprenticeship programmes available with a record intake of 121 Apprentices undertaking training this year across a diverse range of site wide areas.
Sellafield Ltd has partnered with APM to develop young project management talent as they feel it is an excellent opportunity to collectively work together and continually grow the project management profession.
Loren goes on to say: APM has a vast knowledge base on key project management fundamentals, which Sellafield Ltd hope to utilise in order to grow new and future Apprentices.
Sellafield Ltd welcomes the opportunity of working with APM to support young professionals for the future and to drive this new initiate across the nuclear sector.
Scott Reeder chief projects officer Sellafield Ltd added: We are committed as a team to continuous improvement in the way we do business. We recognise that our continued development as a high performing team is fundamental to supporting Sellafield. This project management Apprenticeship scheme is an excellent opportunity for us and we are fully committed with the support of the NDA in supporting the future generation of employees at Sellafield.
We firmly believe that partnering with APM is a great opportunity to support and learn from each other and welcome this new initiative going forward.
A Higher Apprenticeship in Project Management, which is equivalent to the first year of a degree course, will provide aspiring young professionals with the opportunity to develop competence, skill and knowledge-sets and make project management a career of first choice.
The aim of the programme is to create new pathways into the project management profession, improve the management of projects and embed vital project skills in organisations throughout England and Wales.
If your organisation is interested in learning more about employing Apprentices please contact APM. Alternatively, for more information about the scheme please visit the Higher Apprenticeship in Project Management webpage.