Benefits and change management - a symbiotic relationship!

Merv is a member of the Benefits Management SIG and chair of the Programme Management SIG and has a keen interest in exploiting information and communication technology and experience in change projects and programmes - particularly criminal justice.
Neil is a member of the Benefits Management SIG and the Enabling Change SIG and a principal consultant and change manager with a particular focus on roles, organisations and people. 'Mr Benefit' and 'Mr Change' can be seen here!    
On 17th June, Merv Wyeth and Neil White delivered an interesting and thought-provoking presentation on the symbiotic relationship between change and benefits management to around 60 members of the South Wales and West of England (SWWE) branch at BAWA in Bristol. The key objectives of the presentation were to illustrate how benefits management and change management are inextricably linked and to identify ways of applying the right thinking and methodologies to change projects or programmes that contribute to success. Read more about change management.
As an added dimension to the evening's presentation, Merv used some novel technology to gather and measure the collective opinions of the attendees to a range of contextual questions, using mobile phone voting and comments, throughout the presentation.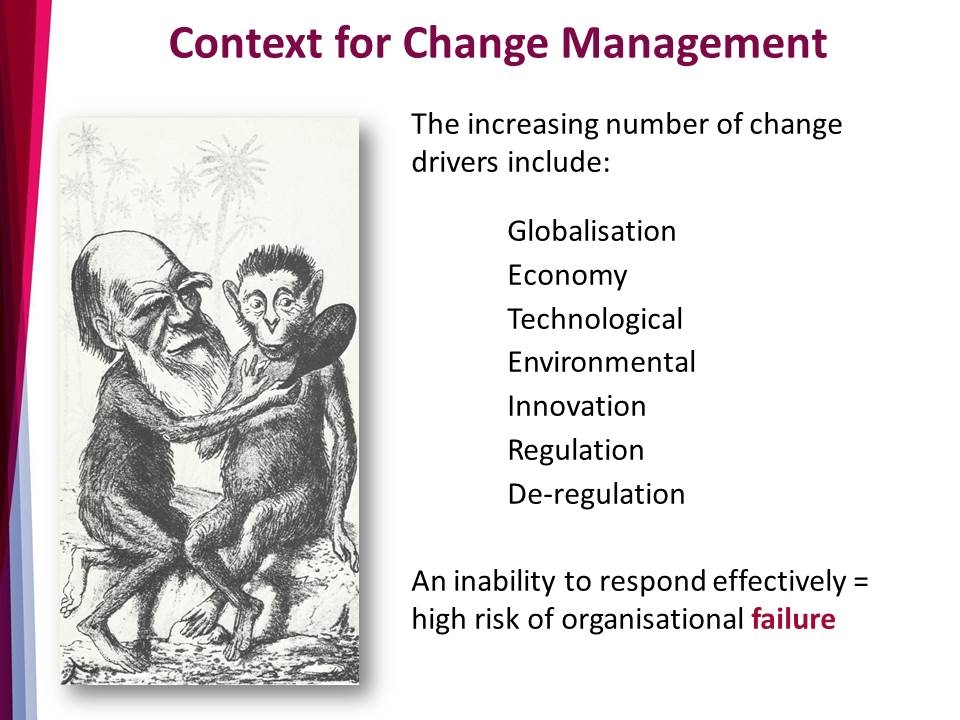 The presentation was delivered in five parts. The initial part re-enforced the reality that the frequency and scale of change continues to grow and that organisations need to be able to respond quickly and effectively to a range of key change drivers including globalisation, economics, technology and regulation. If organisations and businesses are unable to respond effectively to change then there is a very high risk of organisational failure. Organisations must invest in the right projects and deliver them in the right ways, delivering 'more for less'.  
Secondly, Merv and Neil provided a range of views on what programme management looks like, underlining the views of a range of professional bodies including the Managing Successful Programmes (MSP) definition that states that a programme is a temporary, flexible organisation, created to coordinate, direct and oversee the implementation of a set of related projects and activities in order to deliver outcomes and benefits related to the organisation's strategic objectives. Programme types are categorised as 'vision-led', 'emergent' and 'compliance'. However, even with this level of structure and rigour, why do change projects and programmes continue to fail? 
Benefits management (and realisation) was next on the agenda.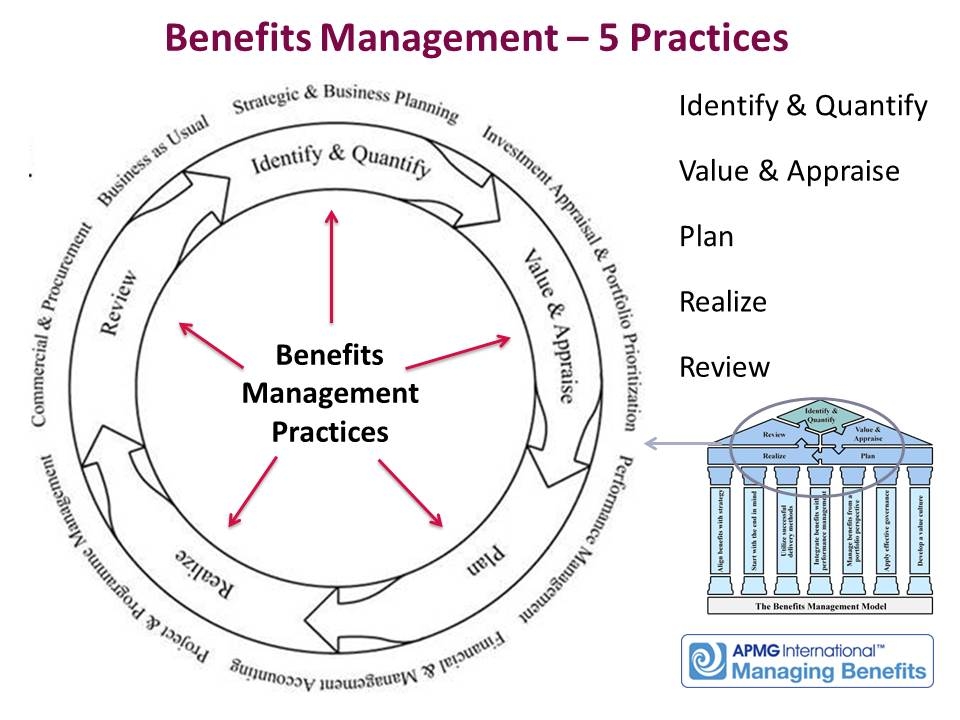 The key elements of this process were encapsulated in the following stages:
Identify and quantify:

undertake workshops to expose benefits and non-benefits and quantify the benefits to ensure the potential impact of benefits are known.

Value and appraise:

identify the size of the financial and non-financial benefits including cost benefit analysis and how these relate to the organisation.

Plan:

validate, prioritise, pre-transition planning, benefit measurement (baseline and post-transition), continuous assessment, stakeholder engagement, accountability and transparency of the realisation process and mitigation of dis-benefits.

R

ealise:

benefits tracking and reporting including trend analysis.

Review:

constant assessment of performance and outcomes linked to the project gate process, lessons learned, process improvement and forecasting improvement.
Fundamentally, benefits need to be driven by a change in culture but they are still the rationale behind the investment in business change. It is only possible to be sure that the project or change programme has been successful if we can measure the (successful) delivery of benefits it is supposed to bring. 
Change management is often seen as an unwanted business function as it challenges existing boundaries of where the responsibility for change management reside. Some people see it as belonging to the programme management discipline for instance.
However, Merv and Neil were strong in their thoughts that change, and the implications of change, need to be maximised in terms of inclusivity and contribution from all individuals within an organisation and that people need to be more aware and integrated in to the change lifecycle.
Early involvement results in better commitment and informed solutions. The use of fact sheets, web sites, public communications, focus groups, surveys and workshops will all help to contribute to successful change. Collaboration across the stakeholder community is absolutely vital for success. Ultimately, it is people that deliver change and they have to have the right skills, understanding, support, commitment and empowerment to ensure its success. 
Finally, Merv and Neil discussed event ROI methodology that ensures that factors such as learning, satisfaction, application and impact are all addressed in any new change activity and that they directly contribute towards maximising value for an event or change activity. Dr Elling Hamso of the Event ROI Institute was seen as a leading practitioner of this approach and a short video was played of Elling giving a pecha-kucha [a simple presentation format where you show 20 images, each for 20 seconds. The images advance automatically and you talk along to the images] to explain Event ROI for non-believers.   
Bruce Phillips
Committee member & Education Network 
South Wales & West of England branch

Merv and Neil's presentation slides can be viewed here: