Benefits Management SIG announces Postgraduate Student Award winner
The APM Benefits Management Specific Interest Group (SIG) is delighted to announce Carlos Serra as the winner of its 2012 Postgraduate Student Award.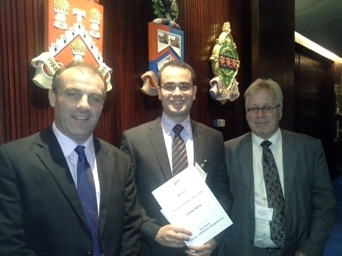 The paper that won the top prize by the masters student from the University of Warwick is entitled The influence of Benefits Realisation Management on the success of projects in Brazil, the United Kingdom and the United States of America.
Richard Breese, the judging panel lead commented that Carlos devised a sophisticated research framework to relate the uptake of benefits realisation practices to project success and the role of different groups. He combined quantitative and qualitative evidence, collected across three different countries. The results stress the link between benefits realisation management and the creation of value in the business, and also demonstrate a connection between benefits management and measures of overall project success.
(Video kindly produced by Merv Wyeth, committee member of the Benefits SIG
Carlos' research does, however, suggest that project sponsors emphasise short term intermediate benefits rather than the longer term contribution to business strategies.
Peter Glynne, co- chair of the Benefits Management SIG said: Carlos' study is an important contribution to the evidence base on the impact of benefits realisation management on business success.
Carlos is currently concluding a masters in Programme and Project Management at WMG, University of Warwick. He has over 12 years' experience in project management, in sectors such as energy supply, oil and gas, retail, IT and consulting. He holds a Postgraduate Specialisation Certificate in project management from the Federal University of Rio de Janeiro and a BSc degree in Engineering from the Federal Centre of Technological Education in Brazil.

Download Carlos Serras paper.

Pictured left to right: Peter Glynne (co-chair Benefits Management SIG), Carlos Serra (2012 Award winner) and Nick Wensley (co-chair Benefits Management SIG)