Benefits Summit 2015 - Benefits-led Portfolio Management: Maximising Capital Investment Returns
Matt Williams, Connexion Systems
A benefits-led portfolio management provides a solid foundation for successful project delivery where projects selected for development are strategically aligned to the organisation's long term vision.
The 2014 PWC Global Portfolio and Programme Management survey reports that organisations that focus on strategic alignment deliver 50% more successful projects.
A portfolio management approach to the selection of projects overcomes the issue of value exaggeration at project definition. Instead projects are selected in accordance with their alignment and contribution to organisational strategy both current and on the future horizon.
It is a fact that business cases that examine the wider economic case, including benefits, rather than purely the financial case enable better investments.
Value is created by all projects, including those that are enabling projects, along with the necessary activity and dependencies that support the proposed business change.
Matt argues that uncertainties in the assumptions made to achieve the required outcomes are potential risks to the project and should therefore be incorporated in the project risk register.
The involvement of all stakeholders in agreeing the project benefits is necessary so that all work stages and organisational changes are identified and agreed at the outset. Setting objective targets for performance and having a distinctive owner to each benefit is good practice and promotes accountability.
To monitor the delivery of value, portfolio initiatives selected need to be periodically reviewed to assess whether they remain strategically aligned, delivery performance is as planned and benefits are likely to be realised.
Using some lead indicators to monitor the realisation of benefits helps to achieve some quick wins and check the health of the project. 
Content from Benefits-led Portfolio Management: Maximising Capital Investment Returns presentation was captured in a Mindmap.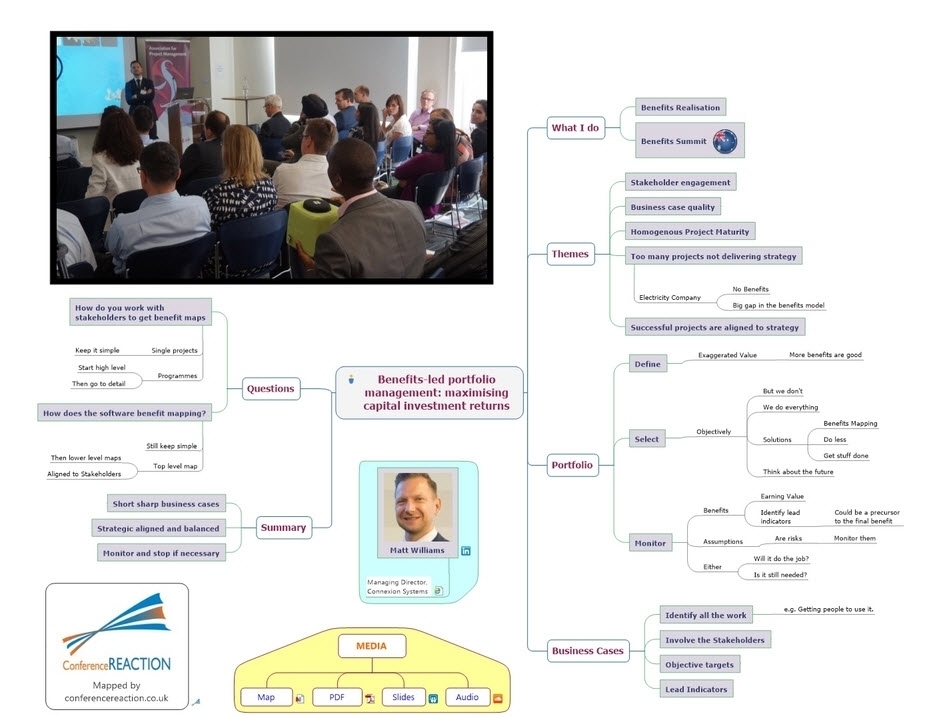 The map has been linked to the associated PowerPoint presentation held on APM Slideshare Channel and an audio file [MP3 Podcast] on APM SoundCloud Channel.
The map has been indexed to be viewed with other material from #apmbmsummit. Individual maps can be downloaded in PDF and native Mindmap formats [Mindjet] for further learning, reflection and sharing.
All materials have been created by Andrew Wilcox of Conference Reaction and are available for re-use. Content is available to be used. We would be grateful to receive your attribution and feedback.
Prepared by Maria Kliniotou