Benefits Summit 2015 - Embedding Benefits in the Public Sector Workshop
Brin Hodgkiss, Benefits Lead for the Bedfordshire, Cambridgeshire and Hertfordshire (BCH) Strategic Alliance
Brin explained that the BCH Strategic Alliance was a positive, supportive and collaborative relationship between the three police forces. They would have to find ways of operating more efficiently with such a significant gap in their budget.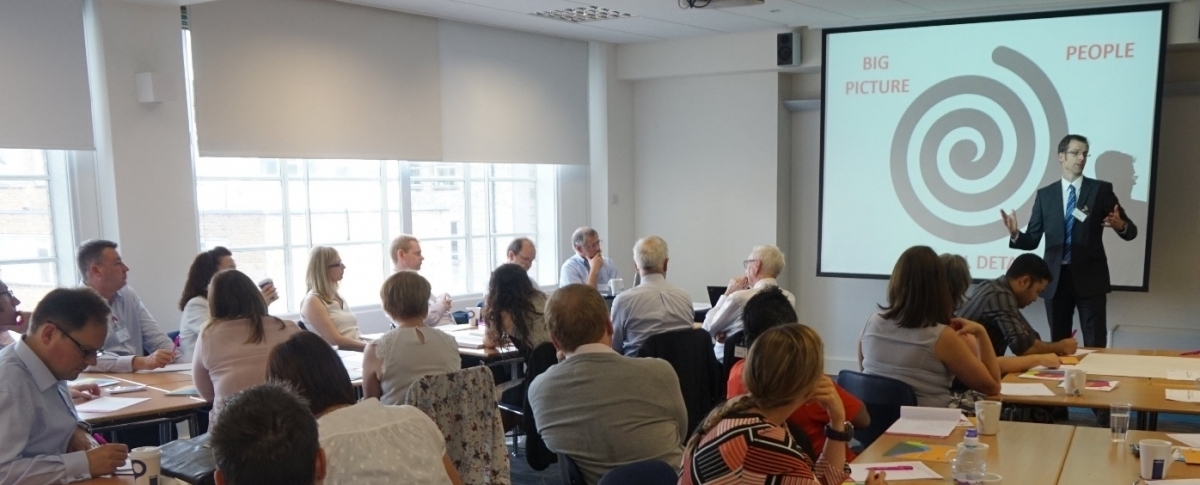 Ultimately, the services and outputs delivered by BCH will be received by the general public. There are clearly performance benefits for the public from this major drive to improve the efficiency and effectiveness of services.
Brin described a wide range of excellent ideas, tips and guidance on how to get the best out of the team in supporting the Benefits Realisation Management process - including starting by asking the question 'why are we doing this?'
There have to be clear objectives for the project. So why are these objectives often missing or poorly defined when we initiate projects? How can we hope to deliver the right outcomes and therefore the right benefits if we don't know the objectives of the project? The answer is simple…we can't.
Brin also suggested that we might want to think about using plain English rather than project 'gobbledygook.' He advocates strong, simple and non-complex imagery to get the message across and BRM training and master classes to improve understanding of BRM and how this can create value rather than simply delivering outputs.
Brin raised an excellent point about bringing people in to the benefits space gradually rather than trying to convince them in a single session. He recommends an iterative development of the concepts of BRM, perhaps in line with the five stage process (identify, structure, plan, realise and evaluate benefits). Such an approach enables you to start to build a reasonable argument - with supporting evidence, which in turns helps others to articulate benefits and increase understanding.
Brin generated spirited debate, amongst workshop attendees, on the 'common threads of BRM despair' such as; sustained SRO and Sponsor engagement and support, accountability for benefits, sustaining benefits management after the project has delivered, integrating BRM into a particular work environment alongside existing organisational processes.         
Brin has over 15 years' experience in his policing career where he has focused on solving problems and creating new teams and processes.
As a former Principal Intelligence Analyst, he is passionate about presenting data and information in ways that encourage and motivate others to take action and thereby support project delivery and benefits realisation.
Content from Embedding Benefits in the public sector workshop was captured in a Mindmap.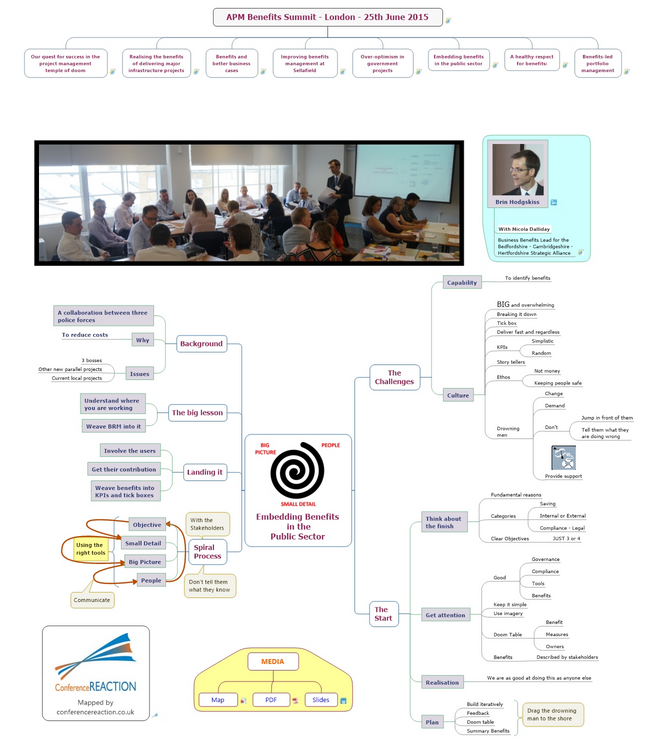 The map has been linked to the associated PowerPoint presentation held on APM Slideshare Channel.
The map is indexed for viewing with other material from #apmbmsummit. Individual maps can be downloaded in PDF and native Mindmap formats [Mindjet] for further learning, reflection and sharing.
All materials have been created by Andrew Wilcox of Conference Reaction and are available for re-use. Content is available to be used. We would be grateful to receive your attribution and feedback.
Prepared by Bruce Phillips.