Benefits Summit 2015 - Over-Optimism in Government Projects
Bridget Jackson, Audit Manager at the UK National Audit Office [NAO]
Bridget explained that NAO, Transport VFM Department which is responsible for auditing and assessing over 350 organisations, projects and programmes each year. Transport VFM publishes reports on how these Government organisations perform both economically and efficiently.
One of the key aims of the NAO is to improve the effective delivery of major programmes and projects that spend public money.
Government projects tend to be optimistic when it comes to estimating cost, schedule and the technical scope of a project. Risks are often downplayed whilst the delivery and quantity of realisable benefits are forecast optimistically.
Bridget explained that this is fundamentally a trait of human behaviour. However, it is a trait that is exacerbated by; a lack of independent challenge, failure to properly engage stakeholders, weaknesses in the project evidence base and unexpected complexity.
A key issue affecting the performance and outputs of Government projects - and therefore realisable benefits, was the lack of decision makers and organisational incentives that sustain the correct professional behaviours.
Bridget described several examples where the ability to deliver optimised benefits was stifled due to a wide range of factors including; politics, hiding bad news, underestimating the challenge, wrong assumptions, lack of skills, lack of detailed data quality and modelling, unwillingness to look at historical data or data from other similar projects, ineffective challenge from independent experts and poor governance.
Given these examples, outlined expertly by Bridget, is it any wonder that some Government projects and programmes fail to deliver the benefits that the original business case was founded upon? Clearly, there is plenty of room for improvement and lots of lessons for us to learn from too!
Bridget has over ten years of audit experience at the NAO covering project and programme management, the five case model, economic analysis, demand forecasting, performance analysis and review of cost estimates. She graduated from Oxford University with a first class degree in Fine Art and is a qualified Chartered Accountant. She is currently studying for an MSC at UCL in Mega Infrastructure Projects: Planning, Appraisal and Delivery.
Content from Over-optimism in government projects presentation was captured in a Mindmap.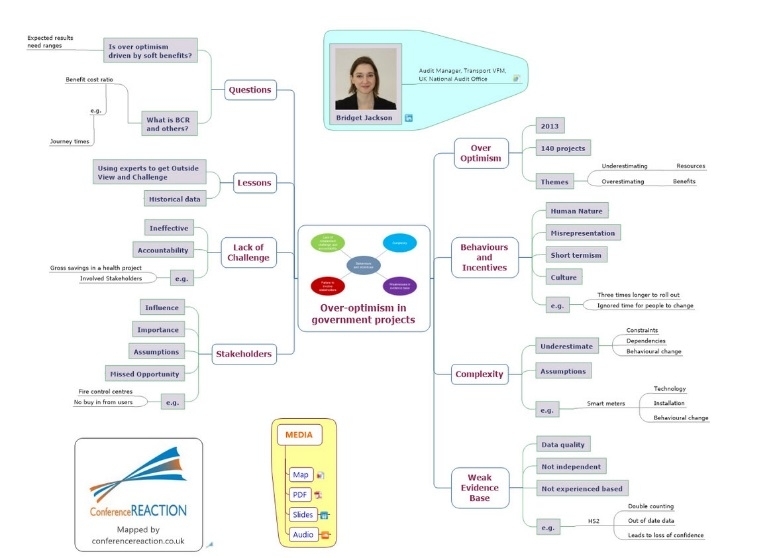 The maps has been linked to the associated PowerPoint presentation held on APM Slideshare Channel and an audio file [MP3 Podcast] on APM SoundCloud Channel.
The map has been indexed to be viewed with other material from #apmbmsummit. Individual maps can be downloaded in PDF and native Mindmap formats [Mindjet] for further learning, reflection and sharing.
All materials have been created by Andrew Wilcox of Conference Reaction and are available for re-use. Content is available to be used. We would be grateful to receive your attribution and feedback.
Prepared by Bruce Phillips