Benefits Summit - Realising the Benefits of Delivering Major Infrastructure Projects
Colin Morris, Director of Strategy, HS2
HS2: realising the benefits of delivering major infrastructure projects_Colin Morris from Association for Project Management
Colin started his presentation by giving an introduction to the HS2 project. The main driver for this project is to meet the rising levels of demand for rail travel which are already outstripping capacity in places and which will continue to grow.
The project also seeks to create long term growth benefits for the UK, by stimulating the economy, creating jobs and skills, regenerating previously neglected and dormant areas.
To illustrate the extent of the problem we currently have, Colin described the difference between the productivity in the north and south and talked about other factors which divide the north and south and create barriers such as access to jobs and property prices.
Colin went on to talk about the benefits that would be generated in three stages, during planning, during construction up to 2025 and during operations after phase 1 opens.
During the planning phases, the aim is to get civic leaders to think about their local infrastructure and how they can take advantage of the HS2 investment.
During construction there are benefits to be had regarding innovation, design methods, jobs, skills and apprenticeships as well as opportunities for SMEs to get into the supply chain.
Colin mentioned that the sheer number of engineers required in the UK would outstrip current projections for graduates, so the HS2 project is supporting the creation of the National College for High Speed Rail. There are already volunteer Education Ambassadors going out into schools to encourage children - and these children are some of the earliest beneficiaries of the project.
During operations, from 2026 when the London Birmingham stretch opens, the benefits are to do with faster journey times, connectivity and releasing capacity and easing congestion on conventional rail. There will also be a surge in regeneration as people start using the railway. Up to 14 trains per hour will travel in each direction, which will take footfall to the new stations. There is already regeneration being planned around Birmingham and Old Oak Common even though construction hasn't even started.
Colin then talked about the Delivery Strategy and its connection to the Business Case and showed us the list of monetised benefits from the business case, which included values for journey time savings and wider economic impacts. 
Finally Colin talked about the Benefits Management arrangements on the project. There is currently a small benefits management team working in Colin's area, with an equivalent team in DfT. The benefits management processes in use are standard best practice, adapted for the HS2 environment.
What is different about the HS2 project is the sheer size and scale of the benefits, the timescales, the number and diversity of the stakeholders involved, particularly those involved in the wider regeneration benefits, and the way in which the business case is reflected in the benefits framework but also in the enterprise balanced scorecard and the supplier performance framework.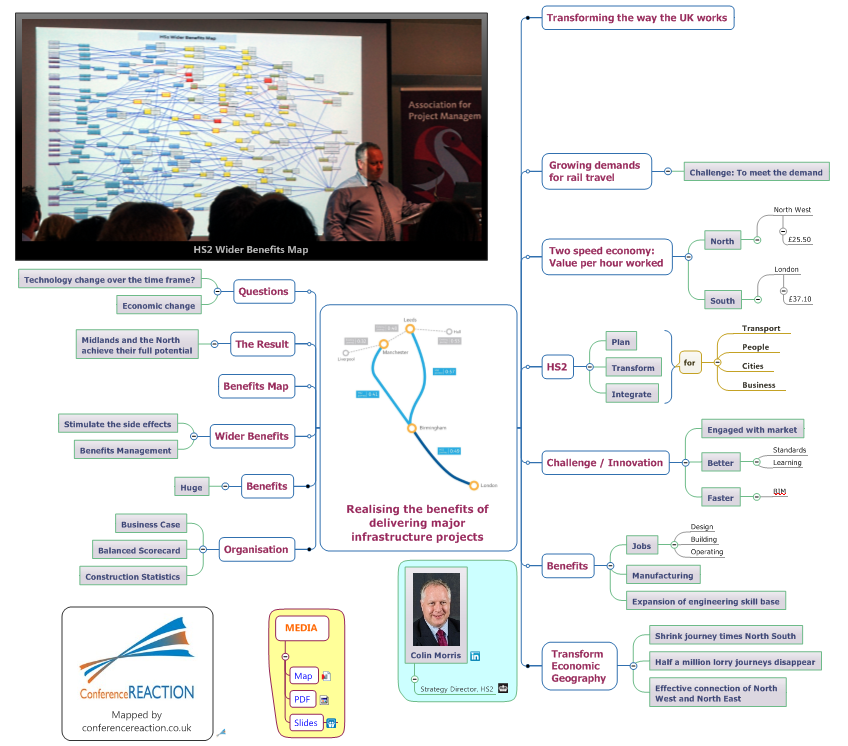 Written by Sarah Harries.