A day of celebration for Honorary Fellows
The Honorary Fellows' Lunch has once again brought together a group of the most esteemed project professionals as part of an annual tradition celebrating newly-appointed APM Honorary Fellows and the achievements of the profession.
This year the event was indeed a day of both celebration and remembrance as attendees looked back on a journey which has lead to APM receiving its Royal Charter from Her Majesty the Queen.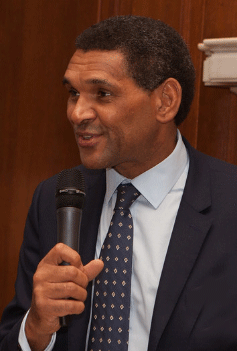 Recognising the efforts of Honorary Fellows who have supported APM since its inception over forty years ago and who have contributed their time and effort towards the goal of APM achieving Chartered status, APM President David Waboso commented:
"While it has been a long process to get to this stage, we are honoured that we work in a profession that has achieved this level of recognition in a single generation. The Honorary Fellows' Lunch gives us an opportunity to celebrate the achievements of the profession with many of those who have made APM what it is today and, in particular, those who have contributed more than their fair share to the achievement of the Charter."
As well as looking back at the huge strides the profession has made over the years and remembering members and associates who are no longer with us, guest speaker Nick Borwell, Director of the Project Delivery Profession, Infrastructure and Projects Authority, looked towards the future reflecting on the challenges faced by major projects in Government, including new initiatives and how developing capability in people and methodologies would help drive the profession forward.
The lunch took place at the Marriot County Hall Hotel, London on 8 February 2017. A full list of APM's Honorary Fellows can be found here.
APM was pleased to welcome the following Honorary Fellows:
David Birch – An expert in delivering high-profile UK and international project portfolios, including the London 2012 games.
Louise Hardy - A Stemnet ambassador and one of the top 50 most influential women in engineering who specialises in delivering projects, including the Jubilee Line extension.
Matthew Riley – An advisor to the Mayor of London's infrastructure delivery board and a non-executive director to the board of the Association for the Consultancy and Engineering.
Sylvana Storey – A published author, lecturer and business psychologist.
Julie Wood - Director at Arup as the global leader of programme and project management with responsibility for a £16bn portfolio of projects.
Bill Johnson - Former branch chair and APM council member who has spent his career developing project professionals.
View the album on Flickr: