City AM's project management report out tomorrow
F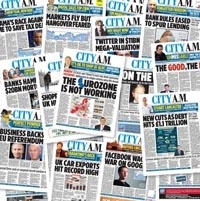 or the second year running APM has collaborated with City A.M. on their special project management report that will be published in the London business newspaper on Thursday 6th November*.
Reaching 399,000 readers throughout London and the Home Counties the report will guide aspiring project managers and help businesses to boost their project performance.
Through his foreword for the report, APM president Tom Taylor will take a look at the contemporary UK project management landscape and how it is moving towards APMs vision of creating a world in which all projects succeed.
The report will go on to explain how coaching can help to create high-performing project teams.
This emerging trend is the inspiration behind APMs recently launched guide: Coaching in the Project Environment.
The free-to-download guide covers a number of coaching themes, which will ultimately benefit both individual and team performance.
The industrys most prominent thought leaders will feature within the report, with APM chairman Steve Wake contributing to an expert panel.
The report is specifically designed to engage key business decision makers and will take a look at how to find the right person for your project and the role software plays in successful project management.
This follows on from APM featuring in two other special reports that were published in the national press this year. APM appeared in the second instalment of the Business Reporters project management report published in the Sunday Telegraph back in April.
Last month saw APM provide a thought-provoking article for Raconteurs special report on project management that appeared in The Times. The feature detailed how employers in a variety of sectors can attract, retain and develop project management talent as they face growing competition for the best project professionals.
APM then appeared again in Raconteurs Agile Business report that was published in The Times.
*Publication date and editorial subject to change.