Coaching trend guide published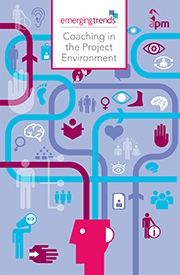 APM's latest trend guide has been published as a free download. Coaching in the Project Environment is the second title from APM's Emerging Trends range. It covers the growing phenomenon of coaching project individuals and project teams to achieve better results.

Written by APM People Specific Interest Group (SIG) members Robert Blakemore, Miles Huckle, Susanne Madsen, Anthony Onabanjo and Carole Osterweil, topics include types of coaching, mentoring vs coaching and how to select the right coach.

"A different author was chosen for each chapter, aiming to provide a variety of points of view and emphases," explained Alun Hughes, People SIG committee member and author of the guide's foreword. "The one thing all the authors have in common is that they have benefited from coaching and can attest to its value."

The guide seeks to build on initial APM blog discussions and a pilot coaching session run by the SIG. "Among this feedback appeared to be a fair degree of confusion between coaching and mentoring," added Alun. "This is something we sought to address."

Early feedback has been extremely positive. One reviewer said: "The whole book does a good job of showcasing the usefulness of coaching in the project environment – reducing stress, improving communication, and building trust." Another said: "It will encourage project and programme managers to seek coaching, help them to find good coaches, and to make the most of the sessions."

The launch follows the success of the trend guide Introduction to Gamification, which to date, has received in excess of 500 downloads.