Concerns continue over Brazil's major sporting projects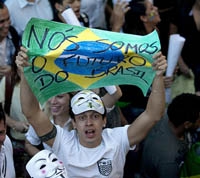 Brazil has been subject to anti-World Cup protests as locals argue the huge sums of money needed to host the tournament should be spent on schools, housing and other vital infrastructure.
According to reports by the BBC, approximately £2.4 billion has already been spent constructing and refurbishing stadiums alone – more than three times the original figure quoted in 2007 – with most of the stadiums having limited long-term viability.
Demonstrations have taken place in cities across the country. In Rio de Janeiro many locals claim the money spent on refurbishing the historic Maracana stadium could have instead paid for 200 schools.
Military police in Recife, which will host World Cup games, walked out last week, leading to a spate of criminal activity and forcing the government to deploy army troops to the area amid reports of looting.
The events followed recent industrial strike in Rio from teachers, bus drivers, museum employees and geologists, who called for better pay and working conditions.
Civil police forces in 17 states have now suspended most of their activities.
Brazilian football legend Pele, recently described his country's incompetence as a "disgrace" and said that the "protests are understandable."
Concerns were raised over the country's preparations at the end of last year after it missed a 31 December deadline for all 12 stadiums to be completed.
Hundreds of extra workers had to be brought in to meet building requirements on the 40,000-seater Arena da Baixada stadium in Curitiba, in order to avoid it being the first ground to be dropped from a World Cup.
The tournament begins in Sao Paulo on June 12 where the hosts will take on Croatia.
Brazil's 2016 Olympic plans have also faced strong criticism.
The Games have already been described by the vice-president of the International Olympic Committee (IOC) as 'the worst' in his experience and critically behind schedule.
John Coates told delegates at a recent Olympic forum in Sydney that construction had not started on some venues, infrastructure was significantly delayed and water quality was also a major concern.
In a statement released by the Australian Olympic Commission he said: "The IOC has formed a special taskforce to try to speed up preparations, but the situation is critical on the ground.
"The IOC has adopted a more hands-on role, it is unprecedented for the IOC but there is no plan B. We are going to Rio. We have become very concerned, they are not ready in many, many ways. We have to make it happen and that is the IOC approach, you can't walk away from this."
The IOC has also announced a series of measures to speed up lagging preparations including extra monitors, project managers and teams of experts.
Image: Semilla Luz, flickr