Courageous Conversation video: We really need to talk about professional judgement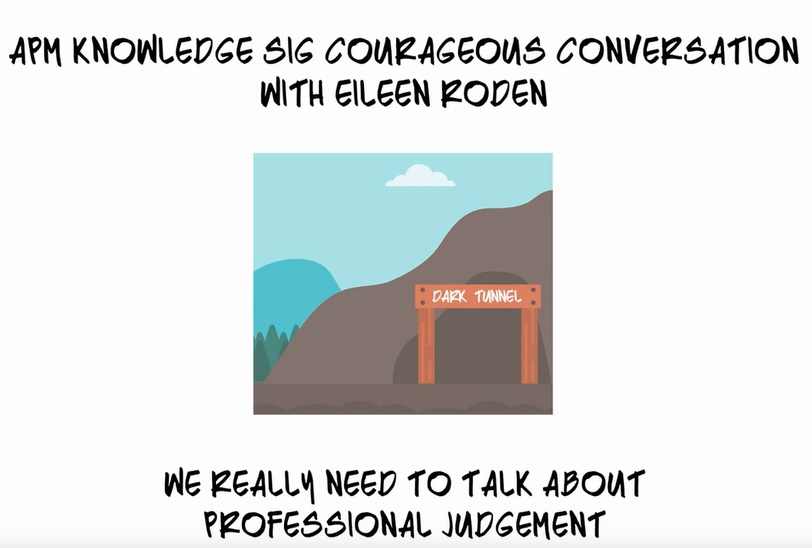 We've all heard of professional judgement – but what is it? How does it work? Where does it come from? What does it mean for project professionals and the organisations they work for? What is a profession, anyway?
These are just a few of the questions discussed at a Knowledge SIG Courageous Conversation with Eileen Roden in September 2016. A Courageous Conversation is a small meeting to discuss a topic that is misunderstood, controversial, or doesn't usually get aired. This video is an 11 minute whiteboard animation that encapsulates the views expressed at the meeting using words, metaphor, humour and some fantastic graphics produced by Vanessa Randle.
Watch the video to find out why some project management settings stifle professional judgement, how organisations and individuals can get better at it, and why multiple choice exams miss the whole point. Expect to meet project managers with baggage, project monkeys, a few dark tunnels and a smattering of slippery banana skins. Continue the Courageous Conversation in the comments. Tell us what you do to improve your professional judgement. Share your experiences of the way your organisation encourages (or prevents!) your use of professional judgement. Let us know what you think organisations should do to give you the space you need to develop as a project professional.
Judy Payne
Knowledge SIG committee member

The Courageous Conversation archive exists in our APM YouTube resource platform.