Crucial Confrontations - an evening presentation by Richard Pound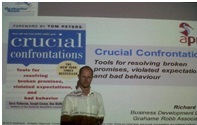 The East of England Branch, Norwich Group, was treated to an excellent workshop covering that difficult topic of how to deal with accountability issues so called Crucial Confrontations. Starting with the basics, Richard facilitated an exploration into the types of situations that could lead to the need to confront someone over an issue. . Such situations could include when someone hasnt done what we expected of them or has taken some action that has disappointed us. By understanding that holding a person accountable for an expected behaviour, a broken promise or a violated expectation is a positive behaviour on our part and that, by having the skills to handle the confrontation correctly, issues could be resolved, even with our senior managers, in a mature and positive manner.

We explored real issues from the floor, including the conflict between sales priorities (over promise what someone else can do to get a sale) versus the back office or project staff who have to then make the impossible happen, incidents where promises made by senior managers have not been kept and understanding how different working cultures can lead to misunderstanding and potential confrontation.

Using video clips, Richard showed us how, when we expect an argument or dont believe anything will change, we close down our communication and can use either silence or aggression inappropriately, thereby leaving the issue unresolved and shutting off any easy path to re-opening the conversation.

By exploring the reasons why we are reluctant to speak up and handle a confrontation positively, Richard showed the group how to hold anyone, even your senior managers, accountable for their own behaviours and actions irrespective of their power, position or temperament. By being able to master discussions about the things people do, that impact you, such as being late for meetings or not delivering on time in a positive manner allows the working relationship to be maintained and a positive result obtained.
This is the third time Richard has presented to the APM Norwich Group and he was, as ever, clear and concise and motivating a highly recommended speaker for other APM events!