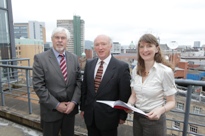 The Northern Ireland branch of APM recently held its inaugural corporate lunch in the Holiday Inn, Belfast where they were joined by numerous project managers from the Northern Ireland business community. Leslie Warren, Chairman of the Northern Ireland committee welcomed the guests to the occasion and introduced Nick Hayes, APM's Commercial Manager who explained through the means of a presentation the fundamentals of corporate association and gave some of the benefits that companies could gain from being a member of the APM.

The lunch period was a great opportunity for networking and the relaxed atmosphere encouraged the guests to converse with other project managers they would not normally be associated with. This being the 40th Anniversary Year for APM the branch took the opportunity of inviting the guests in joining them in the celebrations by means of a cake made especially for the occasion.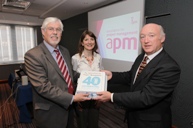 Leslie said that this is a particularly important event both for the branch and APM and has helped develop stronger relationships with our corporate members and introduced other organisations who may wish to develop their relationship with APM as new members. We have no intentions of stopping here and we will continue to create a better relationship with project management organisations in Northern Ireland. Rachel Overton, Northern Ireland branch's Corporate Member re-iterated Leslie's comments and said that she was looking forward to establishing a more positive relationship throughout the region with other business organisations. More importantly this relationship would ensure that raising the standards of project delivery and capability could be achieved particularly in a world where 'All projects must succeed'.

General comments from the guests was that this was an excellent event and a great opportunity for networking and gaining a better understanding of APM and the corporate link.