Why project managers risk falling behind if they fail to learn the skills necessary to succeed in the new project environment.
The face of project management is evolving. With new demands from industry to deliver projects of ever-greater complexity in a rapidly changing global environment, new ways of learning and working must be adopted in order to survive.
These new demands have placed additional requirements on project professionals to learn new skills – leadership, business acumen, etc – outside their core project management responsibilities. 
While many enter the profession with these new skills under their belt, a high quantity still access project management later in their career, with their attitudes already pre-set. In fact, according to APM's Salary and Market Trends Survey 2016, as many as 30 per cent of respondents held a previous job role in engineering before becoming a project manager.
As a result, many project managers lack the necessary skills to succeed in the new project environment.
"Project management is no longer seen as the rigid adherence to a process," says David Hamilton of project management consultancy Projecting, who has more than 17 years' experience managing projects in the financial services sector. "A modern project manager needs to have an intellectual flexibility that allows them to steer their projects safely through the ever-changing strategies, priorities, deadlines and often conflicting goals of the modern business environment."
The changing nature of project management is further highlighted by the skills that project managers deem to be important, and those that organisations actually want (and are looking for). 
According to the APM survey, only 11 per cent of project managers said the ability to coach and mentor was an important skill. However, when asked 'Which skills and competencies do you think are currently lacking in your organisation's project management professionals and require training?', coaching and mentoring featured in joint second place, below leadership and management, with more than a quarter claiming it was lacking in their current organisation. 
It was a similar story with leadership and management (line management). Nearly 40 per cent said it was an important skill, yet more than a quarter (30 per cent) said it was the competency most lacking in their organisation.
This disconnect is evident in other results. The survey reveals that 52 per cent of project managers spend more than 30 per cent of their time involved with leadership and stakeholder-management tasks. This is in contrast to more traditional skills. More than three-quarters of respondents spend less than 30 per cent of their time on governance, and nearly two-thirds report they spend less than 30 per cent of their time on planning and controls. 
"Stakeholder management has gained a much more important place in the project manager's arsenal, and rightly so," says Hamilton. "In an environment of seemingly endless corporate restructures, mergers, acquisitions, outsourcing, and changing economic and regulatory environments, the ability to manage a diverse mix of senior stakeholders, across geographies, is key."
Solutions 
So how does the profession address the lack of soft skills? For Hamilton, it is about looking at the scope of learning, and gaining a broader knowledge in the field. 
"A project manager needs to use a mixture of tools and techniques to deliver projects successfully in a constantly changing environment," he says. "When I started, you could say 'PRINCE2®' and that would be sufficient. Now it is routine to be asked about various agile techniques, programme management methodologies and techniques like Six Sigma."
Another solution lies in the dissemination of knowledge and the sharing of good practice between and within projects to ensure mistakes aren't repeated. Junior project managers will also be able to gain valuable insights thanks to real-time examples. 
A good example of this is Crossrail's Learning Legacy Programme. Through a series of knowledge-sharing exercises including events, webinars and publications, the team at Crossrail is able to show fellow project managers across the world just what it does, how it does it and what challenges it has faced in order to succeed. More importantly, it is an opportunity to show what it takes to be 'world class'. 
Investment in training and raising professional standards is vital, too. To ensure project professionals from any walk of life are equipped to manage today's challenges, we need the ability to demonstrate good practice in project teams. This requires ongoing training to maintain the highest standards and learn the latest techniques.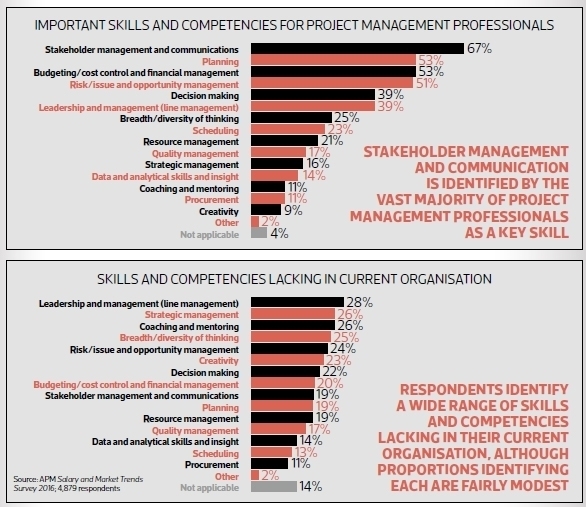 The good news is that the profession is hungry to learn new skills. APM's survey shows that half of project professionals who have been in their role for more than five years are looking to undertake training to gain the skills needed to thrive in the corporate environment. 
For businesses, the return on investment in training and mentoring their project professionals is far greater thanks to the cost savings made throughout projects and the increased certainty of first-time project success. For individuals, professional qualifications are increasingly being used to leverage higher salaries and greater influence over moves up the career ladder.
Rewarding experience 
Despite the pressures of the 'new world' being placed on project managers, there are still rewards to be had. The profession continues to offer high levels of job satisfaction and security, with 82 per cent of project managers claiming to be satisfied in their current role, and 60 per cent expecting a pay rise in the next 12 months. Large corporates, too, recognise that salaries paid to project professionals need to reflect the new skills and responsibilities asked of them.
The survey shows that project managers are now enjoying salaries 10 per cent higher than in 2015. This amounts to an average wage of £50,000 per annum and additional benefits averaging £6,000, with some respondents claiming benefits packages in excess of £150,000 a year.
This level of remuneration isn't unexpected due to the need for more than £500bn worth of national infrastructure projects to be managed in the near future, a task that will require a huge amount of professionalism and responsibility, and offer very little margin for error.
James Driver is communications manager at APM.