Download guidance for improving infrastructure delivery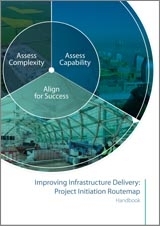 HM Treasury and Infrastructure UK have published a set of documents that provide a framework to help public and private sector infrastructure providers improve the delivery of their projects and programmes.
Developed by Infrastructure UK in collaboration with industry and academics from the University of Leeds, through the Infrastructure Client Group, the Improving Infrastructure Delivery: Project Initiation Routemap provides a valuable guide for infrastructure clients.
Built on lessons learned by both the public and private sector, the routemap provides a much needed framework to help identify and address many common and recurring problems in infrastructure projects and programmes.
This version of the routemap replaces the consultation draft published in January 2013 and adds a suite of additional supporting modules that provide further support to address some of the frequently occurring issues found during initial pilot applications.
One of these modules covers governance, which references three guides produced by the APM Governance specific interest group (SIG) – all of which have recently been made available as ebooks.
Sponsoring Change, Directing Change and Co-Directing Change have all been recommended by government as additional resources to their guidance to help resolve issues around weak or inappropriate governance structures.
Download full suite of Improving Infrastructure Delivery guidance