Download Sunday Telegraph's project management report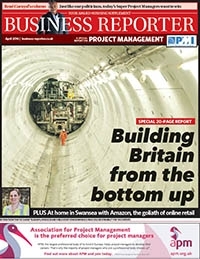 APM once again featured in the Sunday Telegraph's special project management edition of Business Reporter yesterday. If you were unable to pick up a copy, you can view it online or download a version.
The project management edition looked at what politicians and project managers had in common, skills for project success and took a look inside the Thames Tideway Tunnel.
APM's recent Conditions for Project Success report featured in an article with the findings from the report being explored. The top five factors for project success were highlighted and there were images from the Conditions for Project Success breakfast meeting held at The Goring Hotel earlier this month.
APM's chief executive Sara Drake took part in an expert panel with other senior figures from the profession who discussed the key to eradicating failure in projects.
APM president Tom Taylor also gives his thoughts on why project management is a varied career and how skills gained and developed are transferable to all aspects of life. He said that the best skill for project management is being a team player and that 'follow-ship' is key because "while we need good leaders, we need good followers as well."
Business Reporter also looked at how 22% of projects embarked on are wholly successful but we only hear about projects when they fail. Alistair Godbold, deputy chair of APM, said that we should "celebrate the success of good project management a lot more".
APM's blog was also listed as one of the best blogs available for project professionals.
Additionally, last September saw APM provide a thought-provoking article for Raconteur's special report on project management that appeared in The Times. The feature detailed how employers in a variety of sectors can attract, retain and develop project management talent as they face growing competition for the best project professionals. October saw APM appear in Raconteur's Agile Business report that was also published in The Times. An article on good project governance featured in the strategy edition of Business Reporter and was distributed in the Sunday Telegraph in November. In the same month APM was part of City AM's special report on project management.
View online or download the Business Reporter's special report on project management.