Download Sunday Telegraph's strategy execution report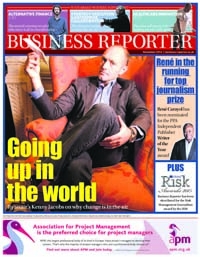 Good governance is not only necessary to ensure an organisation is run competently, it is also vital in aligning its project portfolio to the business objectives.
This was the key message in an APM article published in The Business Reporter, which was distributed in the Sunday Telegraph this weekend.
If you didn't manage to pick up a copy of the strategy execution focused report then you can read it online or download an electronic version.
Read the article to find out why good project governance is crucial in driving organisations forward and ensuring they operate more effectively and efficiently, as part of the overall strategy.
The focus of this feature comes from the highly regarded APM publication Directing Change: A Guide to Governance of Project Management, which identifies four main components to good project governance.
Reaching 1.4 million people the report discussed how bringing in projects on time and on budget is the essence of good strategy execution.
Firms that have a clear plan, including detailed evaluation of scope and finances, ongoing risk management and measurement of results, are consistently more successful than those that do not.
This edition of Business Reporter, which carried APM branding on its cover, analyses strategy execution from start to finish: from developing a vision to communicating with staff, implementing projects and measuring progress.
It looks at how to drive high performance at every level of an organisation and consider the latest thinking, assess technologies and gather success stories. It features an interview with Ryanair's CMO Kenny Jacobs and looks how the techniques and strategies of Sir Alex Ferguson can be applied to business.
This follows on from APM featuring in four other special reports that were published in the national press this year. APM appeared in the second instalment of the Business Reporter's project management report published in the Sunday Telegraph back in April.
September saw APM provide a thought-provoking article for Raconteur's special report on project management that appeared in The Times. The feature detailed how employers in a variety of sectors can attract, retain and develop project management talent as they face growing competition for the best project professionals.
APM then appeared again in Raconteur's Agile Business report that was published in The Times.
London business newspaper City A.M. published a project management report for the second year running that was again supported by APM.
As originally seen in the 'Business Reporter' published by Lyonsdown on Sunday 9th November 2014 in the Sunday Telegraph.