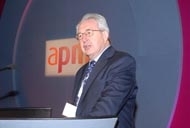 Dr Neville Bain, an avid supporter of APM, sadly passed away on 22 May.
His support for APM is evidenced by his keynote speech on good governance and project management at the APM Governance of Change conference held at the Institute of Directors (IoD) in April 2008. He signed the foreword to the APM Governance SIGs publication Co-Directing Change, and delivered the opening keynote address at the 2008 APM Conference.
Born in New Zealand, Neville was a Fellow Chartered Accountant, a Fellow Cost and Management Accountant, a Fellow Chartered Secretary, a Fellow of the IoD, a Fellow of the Royal Society of Arts, and last year he became an Honorary Fellow of APM.
For 27 years he worked for Cadbury Schweppes plc in a number of different countries. Here he occupied roles of finance director, commercial director and managing director. He then joined Coats Viyella, an international textile company as CEO, and also worked as chairman of the Royal Mail Group, chairman of the Hogg Robinson Group and non-executive director at Scottish and Newcastle.
David Shannon, former chairman of APM Governance SIG, knew Dr Bain well. He said: Neville was an outstanding friend of APM. We in the Governance SIG first aroused his interest through the IoD. As a member of the institute I approached him when he was chairman to endorse Directing Change.

He was a forthright guy with immense senior experience and saw the importance of our work. I will miss him greatly.
If you would like to pay tribute to Neville and recognise his contribution to the profession then please leave a comment with your thoughts below.