Embrace failure to understand success [Video]
Tim Harford, the Undercover Economist, addressed delegates at the end of the APM Project Management Conference with a compelling history lesson which demonstrated the importance of embracing mistakes.
Success inevitably means failure. Embrace failure to truly understand how success works, he said.
During an interview the senior columnist at the Financial Times presented an interesting challenge to APMs ambitious vision of a world in which all projects succeed. He said: It is impossible to get things right first time, every time. I understand that whenever you do a project there is a particular template of ways in which it may have been done before.
But, because every project is unique you just cant hit that 100% success rate.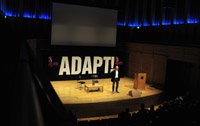 To illustrate his point Tim referred to Google and how the internet giant has an intentional product failure rate of 80%. This is to help the Silicon Valley firm learn from its failures and go on to succeed more. This is a very interesting contrast to a project managers mindset that we dont fail, we get it right. Is that really a contrast? Or can Google learn from project managers and can project managers learn from Google?
During his entertaining presentation Tim used a number of historical examples that he highlighted as both unproductive and productive failures. He added: Project managers need to have productive failure. Make mistakes in a good direction.
A full round up on the 2013 APM Conference will feature in Julys issue of Project magazine.
Watch more interviews with the speakers from the APM Project Management Conference 2013.
#apmconf