George Osborne urges planners to think big on HS2 terminus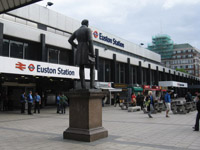 As HS2s new chairman Sir David Higgins reconsiders existing plans for the programme, the chancellor George Osborne has urged a really big redevelopment of the Londons HS2 rail terminus.
Speaking to the London Evening Standard, Mr Osborne said: I'm thinking that maybe we should go for a really big redevelopment of Euston.
He made the comments on a visit to a high-speed rail terminal at Kowloon, Hong Kong.
In April 2013, plans to demolish and rebuild Euston for HS2 were dropped and replaced with a scaled-back plan that involved developing the existing station.
Reporting on Mr Osbornes comments, the BBC quoted a Department for Transport spokesperson as saying: The chancellor is absolutely right to point out the fantastic opportunity HS2 provides to regenerate Euston.
"Plans are currently being considered by David Higgins as part of his broader review of the project and he will report back shortly."
If it goes ahead, the governments HS2 programme will see a new high-speed rail route constructed from London to Birmingham and to Manchester and Leeds.
Construction on Phase One London-West Midlands is expected to begin around 2017 and open in 2026. Construction on Phase Two to Manchester and Leeds could begin in the middle of the next decade, with the line open by 2033.
Related stories:
APM LinkedIn group discussion - 'What are your thoughts on HS2?'