Hear the experts discuss RPP [Podcast]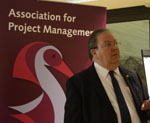 Listen to an APM Registered Project Professional (RPP) podcast from Parallel Project Training where Paul Naybour chairs a discussion with Graham Hawkins and Neil Mooney, who have been through the process and achieved the new pan-sector standard, and John Zachar FAPM, Product Development Manager at APM (pictured right) who has played a pivotal role in creating the industrys new designation.
Graham Hawkins, Head of PMO at APM, achieved RPP during the pilot along with Neil Mooney, Training Director at Provek, who are both on hand as RPP Champions to give their firsthand experience of the application process and offer up tips to those considering applying. Graham and Neil have not only gained admittance to the APM Register of Project Professionals, but they are also RPP assessors as well, so they complete a very esteemed panel of experts discussing everything the listener needs to know about RPP. The panel will cover off the benefits of RPP to an individual and an organisation, how the designation sits alongside other APM qualifications, the application process, and what hints and support there are for potential candidates. For more information visit the APM Registered Project Professional web page.