HM Revenue & Customs gains APM Corporate Accreditation
APM are delighted to announce that HM Revenue & Customs (HMRC) has recently gained APM Corporate Accreditation for its HMRC PPM Profession Development Programme. This is a great achievement as it allows HMRC to demonstrate to its customers, suppliers and employees that they are committed to the highest standards of project management professional development.
Chief Executive of APM, Andrew Bragg, said: The Association for Project Management is proud to award corporate accreditation to HMRC. Within APMs professional community, organisations of every type have an important role to play in raising the bar of project professionalism, and as a leading government department with a significant interest in major projects, HMRC typifies good practice in supporting APMs 5 Dimensions of Professionalism.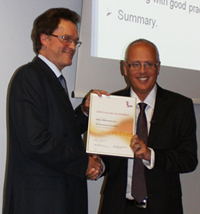 When presented with their certificate (pictured), HMRCs Director General for Change and IT, Phil Pavitt said: Im proud to accept this prestigious award on behalf of HMRC, and Im particularly pleased that were only the second government department in the world to have been awarded it. I think this is something HMRCs customers and our stakeholders can take real confidence in.
Accredited companies are able to attract and retain the best project management talent in the country. The assessment of an organisations professional development scheme gives stakeholders confidence of its dedication to developing project professionals. HMRC is responsible for collection of taxes and payment of benefits and credits.

When asked what gaining Corporate Accreditation meant to them, Lin Holmer, Chief Executive of HMRC said: This is a great achievement for us in HMRC and shows were serious about having people with the right project skills.