Honorary Fellow awarded for inspiring future generation of project managers
APM will award Mark Thurston with an Honorary Fellowship in recognition of his commitment to the profession and helping to develop the next generation of project managers.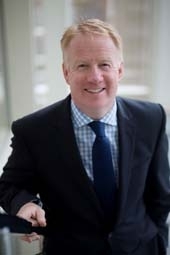 After leaving school, Mark (pictured) started a four year engineering and electronics apprenticeship with London Underground. His rise as a project manager saw him employed by Brown and Root, Railtrack and the Nichols Group before being appointed as vice president of Metronet.
He has more than 20 years' experience in project and programme management, working in both the private and public sectors on major infrastructure projects.
In 2008, Mark began his role as programme delivery manager leading the roads and bridges programme on the 2012 London Olympic and Paralympic Games. Mark's commitment and supervision contributed to the Olympic park being completed a year ahead of the games, enabling a series of test events to be held, unprecedented in modern games history.
In his current role as regional managing director, Europe of world-leading programme management company CH2M Mark has delivered the Hybrid Bill for HS2, the Development Consent Order and delivery contract awards for the Thames Tideway Tunnel, and is managing the flood relief planning for the Thames Estuary.
From his own beginnings as an apprentice, Mark has shown what can be achieved through hard work, dedication and professionalism. He is now investing in the next generation of the profession through the Major Projects Leadership Academy at Sad Business School, Oxford where he has been a regular speaker.
He has also recently accepted an invitation to become a visiting professor at Bartlett School of Construction and Project Management at University College London.
He was at the forefront of placing individuals on the first cohort of APM's Higher Apprenticeship in Project Management and has supported APM by releasing two senior executives to the board of APM.
His commitment to continuing development is also highlighted through his company's corporate membership of APM and the range of CPD events it has hosted.
Mark is an enthusiastic supporter of the Major Projects Association and is an active advocate for diversity in the profession.
Mark, along with four other Honorary Fellows will be recognised at the APM Project Management Awards on Monday 2nd November in London.