How to Open a New Hospital: Successes and Lessons from Southmead Hospital NHS Trust
The SWWE Branch was very pleased to be hosted by the North Bristol NHS Trust at Southmead Hospital to review the Southmead redevelopment programme, some 4 months after the new Brunel Building was opened on 28 May 2014.

This event is particularly interesting as the Branch AGM in May 2012 was held at Southmead where we heard about the change programme, and it is great to revisit the Southmead to learn about the successes and lessons some 2 years later.

Our presenter, Ian Triplow, the Associate Director of the Programme Management Office provided a really interesting insight into the back ground of the programme, which started some 10 years ago. 

Ian set the scene with explaining about the NHS and the North Bristol NHS Trust, and how the Frenchay Hospital was built in 1921 and still used many of the temporary buildings constructed in the Second World War by the Americans.  A decision was finally taken in 2005 to construct a new acute hospital on the Southmead site.  In 2010 a contract was awarded to Carillion for the construction of the new Brunel Building as a PFI which will be paid for over the next 30 years. The building has 114,000 m2 over 7 floors, with 800 beds and 24 theatres, at a capital cost of £432 million. The building was handed over on 26 March which allowed 2 months to move in and be fully operational by 28 May. 

With phase one of the programme complete, phase two will see the demolition of the old buildings and completion of construction.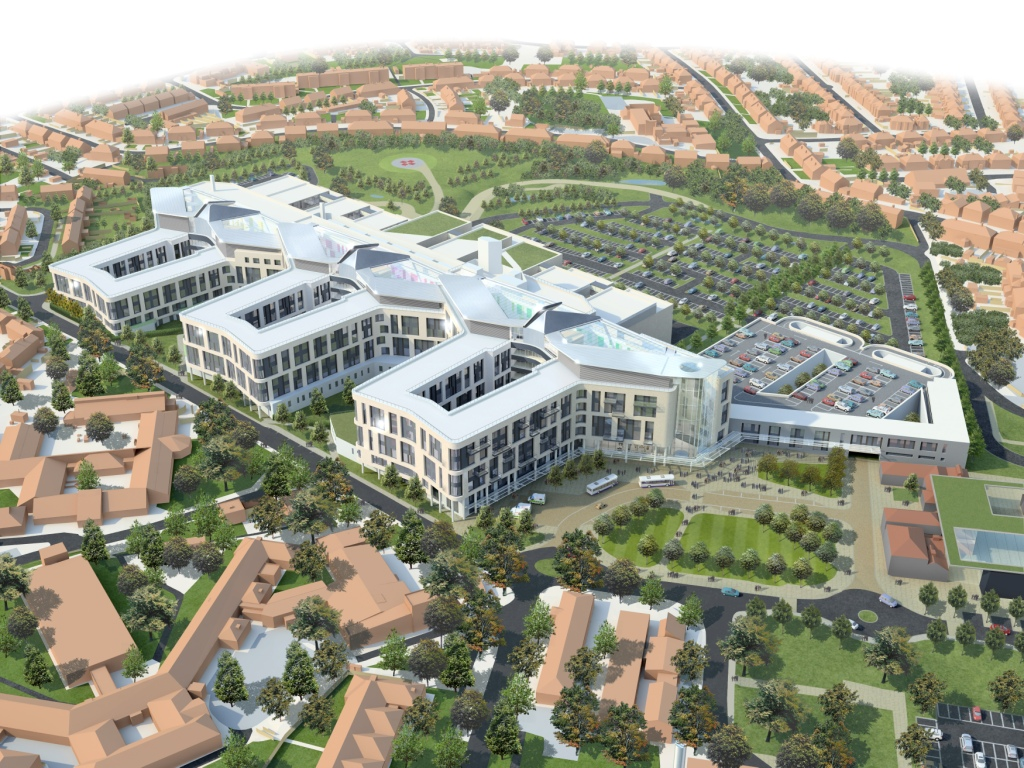 Ian explained that the building construction is the 'easy' bit.  The difficult bit was the building design, which was intended to support completely new ways of working to improve efficiency of the hospital and reduce running costs. This work was led North Bristol Trust, (NBT), with an internally recruited team including Clinicians and other specialists.  The design accounts for good practice from around the world, but is unique.  Ian explained that just as they had sought good practice, others are now coming to Southmead to learn lessons from NBT.

Ian explained that to get the benefits from the programme, it is essential to completely change the ways of working, but the challenge was that this had to be done without being able to test it first.  The change programme is called the road to 2014 and had to be ready for the operational opening date of 28 May 2014, when Frenchay was closed and the new Brunel Building at Southmead opened. Patient's lives were at risk, and so there could be no room for error.

One of the key lessons is that the NHS is not that good at project management. Clinicians are great in a medical crisis, but not good at long term planning!  PgM and PjM experts were brought in to provide a balanced team.

Ian explained that everything was changed. There are 75% single rooms, which requires a  very different nursing approach, robots are used to move food and laundry, all the equipment is new, support services are very different. The workforce models are new, with less staff for the wards, theatres, administration is in open plan offices with centralised systems, and even the consultants are in open plan offices. He noted that reducing staff in theatres would take some time for the surgeons to accept, and so it would be slow process for all benefits to be realised.

Ian explained how valuable the Gate Way review process was to be able to point out the obvious to the Senior Staff. It was realised in Dec 13 that the current approach would not be able to deliver the required opening date of 28 May 14.  A new approach of a single move and transformation programme with a streamlined Governance structure was needed. Governance included the whole senior team, meeting every week to focus on the co-operation and solving problems.

Reporting used simple summary exception reports which were centrally controlled and which everyone could understand from administration staff to consultants. Decisions were made in meetings and were not allowed to be deferred.  Risk management involved weekly reviews of risks and issues, considering both the change programme and business as usual.  Mitigation actions were monitored and reported daily, which required a lot of effort.

For the move period, sign off was required by every general manager, that staff had been trained and orientation had been done, that SLAs were in place, that workflows, systems and processes were all ready.  Similarly, sign off was required from every Clinician for their areas of responsibility.   Both of these were quite pain full to achieve!

The moves were supported by the Harrow Green the removals firm and the RAF for emergency shelters and specialist ambulances for moving 24 intensive care patients. A maximum of 120 patients were moved per day, and not one of the 500 patients was lost!

Ian reflected on the lessons. The programme showed the NHS at its very best. The staff cared that it worked, and ensured it did. Planning must be fully inclusive, and external help can open your eyes to issues and bring lessons from elsewhere.

Communications are key: rumour control is essential. The 1 page summary reports were simple, regular and easy to understand by everyone involved.  E-mail does not work when people are moving!  External communications is needed to provided reassurance and deal with questions from all the stakeholders and local communities.

A single change programme was needed to deliver in the time available, with one governance structure, one SRO, a single critical path and a command centre running 24/7.  Decision making must be recorded and quickly communicated.  Gate Way reviews were really valuable in highlighting issues and action needed.
Operationally, standard operating procedures should be bedding in before moving. Greater involvement of the Clinician and Surgical staff would have avoided some issues with rumour and distraction.
The timescales between handover and move in of 2 months was very ambitious. All annual leave was cancelled, but the impact of 7 days a week working on staff cannot be ignored.  You must look after your people.

Ian finished on a few last thoughts: comfy trainers have replaced heels! Make sure you can get the air ambulances in – they are big!, swipe access doors are not good for orientation tours!, the staff restaurant has become the hub to what is going on.

They did lose some beds!, There were thousands of boxes everywhere, but only a few are still missing.  Less meetings are good – many were cancelled and have never restarted! A copy of the presentation can be viewed below.
Martin Gosden
Branch Chairman