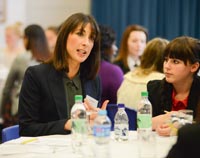 APM was present at an Inspiring the Future event at Basildon Upper Academy in Essex last month, held as part of the national Inspiring Women campaign.
Samantha Cameron, wife of the Prime Minister (pictured right), and Miriam Gonzalez Durantez, wife of Deputy Prime Minister Nick Clegg, were among 10 high profile women attending the event.
Mrs Cameron, former creative director of stationers Smythson of Bond Street, and Ms Gonzalez Durantez, a partner of international legal practice Dechert, are highly successful business women in their own right.
Others in attendance included former culture secretary Dame Tessa Jowell, broadcaster Clare Balding and CNNs chief international correspondent Christiane Amanpour.
The women took part in a career speed dating event with 100 girls to give them insights into different career options.
The school also held a career fair where 175 women, including a team from APM, were present to share their experiences and inspire the attendees.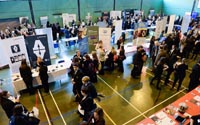 APMs attendance at the event was the latest move in promoting the profession of project management to youngsters, with the ultimate aim of making project management a career of first choice.
In October 2013, APM launched a school engagement scheme with Inspiring the Future to inspire school children to consider a future career in project management. The scheme has now been extended to the STEMNET network.
Basildon Upper Academy, which is currently in special measures and has recently been inspected by Ofsted, is the first school in the UK to host an event as part of the Inspiring Women campaign.
Although this event was focused on promoting careers to women, the Inspiring the Future movement is open to both men and women.
APM relies on volunteers to engage with the next generation of project managers along with many other activities.
APM recently became the first professional body to be officially recognised for the excellent work it does with volunteers. Investing in Volunteers is the UK quality standard and publicly demonstrates APMs commitment to volunteering and effective volunteer management.