Leadership in the 21st century
The branch was very pleased to be able to invite Keith Stopforth to speak about leadership in todays business environment to APM members at BAWA, Bristol.
Keith kicked off with an interactive discussion about what people saw happening to leadership in their world. Ideas discussed by the audience included: lack of empowerment, lack of senior vision, global and virtual teams, different cultures, alliances and collaborative working.
Keith then looked at the CIPD 2013 Mega Trends report and highlighted some key points:
generation Y; equipped for IT but poorer at literacy and numeracy

the ageing baby boomer population

under 25s in work falling

low employee turnover due to the recession but likely to increase

increased part time and home working

employee engagement recognised as important for productivity and performance

new technology meaning people are never away from work
The audience was then asked what they thought was happening with leadership training and development. Ideas included: less formal training, more on the job, leadership is not desired by all, learning management systems for on-line learning can be bland and boring, but, equally they can be done well.
Keith used a case study to show just how much investment in leadership training and development had reduced since the beginning of the recession.
He asked how leaders cope with the current environment, and introduced the 4 Pillars of Leadership model: Authenticity, Resilience, Networked and Learning Agility. He emphasised that these 4 were of higher importance, but did not replace other leadership competences.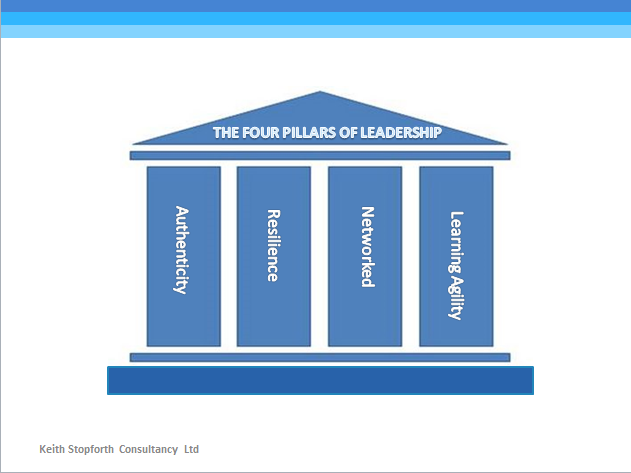 Authenticity is about trust. Who you are as a leader; what you stand for, knowing yourself. How you create trust in yourself. It is about ethics and being seen to do the right thing.
Resilience is the ability to cope with constant change, ambiguity, complexity; having mental toughness and the ability to deal with the messy toxic stuff. Change is a constant. Leaders need to protect their teams and help them become more resilient to cope better with stress and change. Stress has a real impact on organisational performance; less engaged staff can lower operating income by a third. The top causes of stress are too much change, not enough time, and high workloads.
Networking is an absolute essential now; the need to be deep and broad. External networks are critical to prevent you getting cut off and to look after your life long career. Complexity, matrix working, changing stakeholders are reality how can leaders develop to manage this? Leaders also need to be aware of the external commercial environment: the market, their competitors.
Learning agility is about making learning a habit; about continuously improving your skills and abilities using opportunities to do so as they arise. The ability to anticipate change is needed, together with rapid action. It is better to seek forgiveness rather than wait to be told what to do.
Keith discussed the future of leadership development. He saw more emphasis on action learning in the workplace, facilitation by senior leaders, encouraging people to share learning, more on-line training with shorter, more exclusive formal learning interventions.
There then followed a lively Q&A session. In answer to one question Keith explained the challenges for leaders engaging Generation Y: with the death of life long careers, the psychological contract, nomadic careers, the desire to get experiences and move on. How do you lead and engage this generation? How can you ask for their engagement and loyalty when they know that your organisation is not expecting to show any loyalty to them?
Keiths presentation raised a lot of interesting questions and challenges for leadership which are highly pertinent to project leadership. Projects are by their very nature temporary, they often use matrix management and can be virtual, so as a leader, how does the project manager, provide the vision, seek to instil trust, help the team cope with the constant changes; to become resilient, to want to constantly learn and develop? The four pillars model of leadership; Authenticity, Resilience, Networked and Learning Agility, can provide some useful tools for the project leader.
Martin Gosden
SWWE branch chairman