Leading lights gather at APM round-table event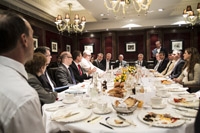 In the grand surrounds of West London's Goring Hotel, APM brought together a selection of leading chairmen, directors, CEOs and project professionals to discuss the association's recently published research, Conditions for Project Success. Rolls-Royce, Mace, BBC, Heathrow Airport, Laing O'Rourke and Amec Foster Wheeler were among the businesses and organisations represented at the event.
APM's independent research, which lays bare the main reasons for project failure and the steps necessary for a project to succeed, was based on the views of over 850 project professionals across the private and public sectors.
The research reveals that just 22% of respondents' projects wholly met their original objectives. It also found that around 1 in 8 projects failed to meet budget and around 1 in 6 wasn't delivered on time. In addition to this, Conditions for Project Success identifies the critical factors for a project's success, such as effective governance, project planning and review, competent project teams and clearly defined goals and objectives.
Participants largely supported the research findings and importantly, started to map out the reasons why gaps between theory and practice – 'the knowing and doing' – often occur in projects and programmes.
One key area identified was setting up the project properly, including embedding robust project controls at every stage.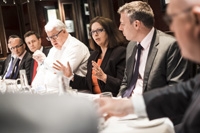 Drawing on her experience working on the 2012 Olympic Games, Laing O'Rourke's Caroline Blackman stressed the importance of good governance: "We had to set up a number of governance teams because the biggest issue was the level of uncertainty around design – in construction, design is often not finalised by the time you're trying to make certain decisions.
"By breaking governance down into small chunks, decision making was made at the point of highest competence and we could escalate that decision-making up the governance regime so that, at every level, competent people were making decisions."
Elsewhere, Julie Wood from Arup and Anna Gagliano from Argent both made the point that if a project is to succeed, sufficient planning must be carried out before ground is broken.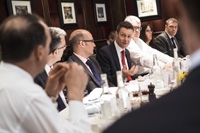 On the subject of attracting the right people, Heathrow Airport's Julian Foster said it was important to "capture" talent early on. He said: "At Heathrow the apprentices who have come through have stayed because they've been looked after. It's also important to trust people and teams to make the right decisions without the fear factor."
All agreed that in the increasingly complex world of project and programme delivery, collaboration was the only credible way forward. This extended to early engagement to scope the project properly, through to handovers and transitions, including lessons learned. Sharing benefits with stakeholders, including "selling" the social value of a project was also highlighted.
Outside the sphere of the project management community, it was noted that more should be done to engage with and ensure capable sponsors were in place for the duration of the project.
This point was flagged up in the original APM research report, which suggested that in 16% of recently completed projects capable sponsors were either poor or absent; despite more than a quarter of respondents indicating that sponsors were critical to the overall success of a project.
In response Stuart Collins from the BBC said the corporation has concentrated on sponsor accountability and provides support to ensure "full understanding of the role and focus minds on delivery of outcomes" as well as finding a common language that all parties could understand.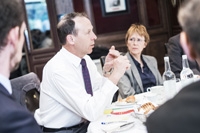 Bringing proceedings to a close, APM deputy chairman and business development director at CH2M Alan Macklin summed up the day's discussion: "It's been absolutely fascinating and taken us down routes I didn't think we'd go down."
"I came up with seven points that reflect the discussion today. First there's talent: how do we recruit, retain and build teams at a time when resources are scarce? That's a very real issue.
"The second point pulls together the continuum between the project manager and project management and how we build a single community around that. The third was setting up for success – quite a lot of the talk around the table was about making sure the set-up is correct and the early engagement is there.
"The fourth point was learning from experience and the experience of those who have been there before us and have the scars. Number five is the impact of information and technology – project management has evolved relatively slowly but it's about to pick up.
"Then we had a discussion on marketing and how the social value of a project needs to be shown to ensure we're selling the right message. The last point was about handovers and transitions – an awful lot of projects run for a long time and you need different areas of expertise and interest as you go through the various project phases."
Read the Conditions for Project Success report in full
Read Alan Macklin's blog – Project success: collaboration is the only credible way forward
Participating companies: Amec Foster Wheeler, Argent, Arup, Atkins, BBC, Grosvenor, Heathrow Airport Limited, Highways Agency, Kier Construction, Laing O'Rourke, Mace, Prime Place Development and Rolls-Royce.