Lean & light PMO Conference
APM PMO SIG Conference - the lean and light PMO - how much is good enough?
Overview of the presenters

Chris Walters, PMOSIG Chairman Introduction & The Lean PMO
The Autumn conference focused on the business-driven PMO, but it didnt answer the question of how much is just enough, and how much is too much. The answer, of course, will be different for each organisation, but we hope that this conference will give you some good food for thought, enabling you to pitch your PMO in the Goldilocks Zone: making sure that its not too bloated, and not too stripped down, but just right...

Sion Jones The Pop-Up PMO
Sion will give some ideas on where to focus your attention when rapidly deploying a PMO
How do you set up your project quickly when you dont have time to set up all the procedures and templates: how do you make sure its functioning well right from the start of the project.
Peter Taylor Lazy Nimble PMO Manager
We challenged Peter to combine two of his books (The Lazy Project Manager and Leading Successful PMOs) for the conference, so todays session is on the Lazy Nimble PMO Manager
Peter Measey, RADTAC Introduction to Agile and the Agile PMO
In general, PMOs dont know how to deal with the Agile Project Management Methodologies, so Peter will give an overview of the key differences between Agile and some of the more traditional forms of project management that many of us are more familiar with, and how these apply to PMOs.
Peter Parkes Building Influence Quickly
Peters session will aim to give you some tips on how to achieve rapport quickly, which can help you to start influencing more quickly, ensuring you can make the most impact in your PMO role and in general.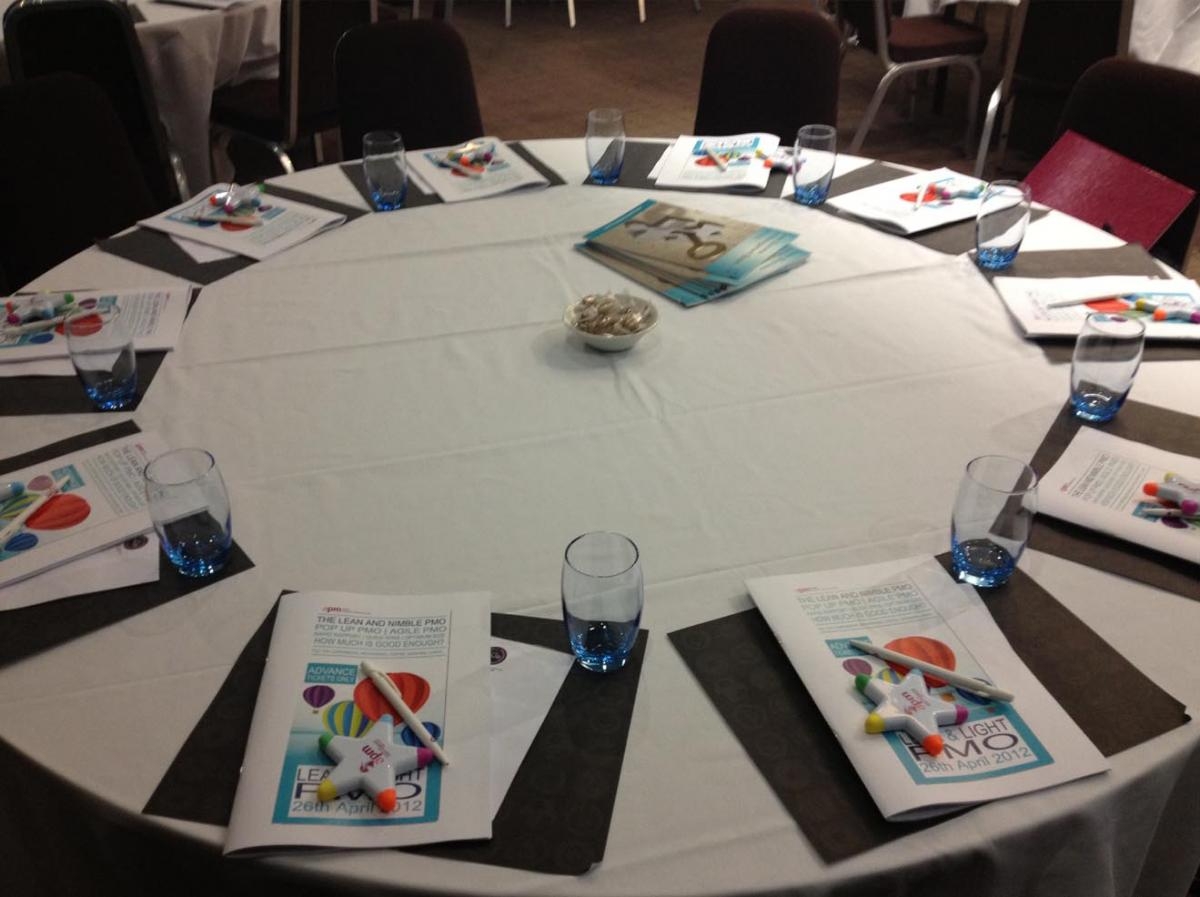 Chris Walters: The Lean PMO
Chris highlighted that the brutal truth of todays climate is that projects are getting harder and must be delivered quicker, but PMOs still have to deliver for organisations in this climate.
Changes are happening at Internet speed, so projects can sometimes experience more change than they can control properly. For example, where previously many investors were investing in the long term, and were content to wait a few years for their investments to mature, many companies now focus on much shorter timescales, such as their next quarter results. In a similar way, projects need to be nimble enough to deliver despite the macroeconomic conditions.
Nowadays, competitors can come from surprising places, and can leave traditional business models exposed and hurting. For example over the top players use a business own infrastructure to beat it at its own game. The iPhones iMessage functionality, which can send free text messages to other iPhone users, has had a devastating effect on mobile phone operators revenues.
Non-traditional competition can also come from the regulators. As the world gets more complex, it tends to need more regulation. Regulators can increase competition by limiting or constraining potential improvements or expansions your organisation can make.
Poor project decision making and innovation can kill a company. Nokia, for example, chose not to challenge iPhone until too late, and its market share has declined as a result. Blackberry has also seen its market share drastically eroded. Projects that deliver change need to make sure that they deliver quickly to ensure the organisation if well position fight off the competition.
PMOs often suffer in times of budget cuts. Many senior managers dont fully understand what PMOs do, and since they dont deliver tangible outputs, they are therefore often seen as overheads. There is an added challenge that if a project doesnt deliver well, the attention will fall upon the project manager, but if when a number of projects dont deliver, the PMO falls under scrutiny as they are not making projects succeed. As in any ecosystem, only the fittest will survive.
When building your PMO from a Lean and Light perspective, the most important questions you need to answer are Why, Who and When, followed by What, How Much and How.
Why? Pressure to deliver the right thing on time, pressure to deliver the right thing first time. Are we delivering the right projects?
Who? YOU! Are we doing the right projects? We do not want to create processes that slow projects down, we need to make sure we help the organisation deliver what it needs when it needs it. Nobody else can fix your PMO challenges but you.
When? The PMO needs to be ready to react and ensure your organisations projects deliver
To initiate some interaction, Chris asked the delegates to answer a couple of questions around their tables. Some typical answers included:
If my PMO could do one thing:
Exist
Portfolio Management
Get involved and challenge
Be less reactive, more proactive
If my PMO could ditch one thing:
Pointless reporting
Paperwork and bureaucracy
Admin / data transfer
Reduce bureaucracy
Wasting time on over-planning
Agile / Nimble means:
flexible
adaptable
able to change direction quickly
More, quicker, better
Respond more readily to changing circumstances
Light paperwork
Minimised
Chris asked us to consider how much energy our PMOs devote to fixing things when they go wrong versus how much we devote to preventing them in the first place. Nobody else can fix your PMO challenges but you. Do we spend our time firefighting, or finding the guy with the matches?
When you consider the costs of achieving a certain maturity level versus the cost of not achieving it, each organisation has its own sweet spot where costs are the lowest. This dictates which space to place yourself in, but in order to reach it, you need to know where your PMO currently sits on the curve, and which direction you are heading in.
It is important that your PMO doesnt create too many hoops to jump through. If your organisation is immature, becoming more mature will save costs will probably require that the PMO enforces greater process compliance. However, if you are more mature, make sure you dont throttle your projects with your processes you may get better results by easing off a bit.
You will need to identify metrics to show when youre in your sweet spot, but the key is to be honest with yourselves about where you (or your organisation, or even just your part of your organisation) are on the curve.
Some useful tips on how to achieve this include:
Draft a PMO service menu from the services you provide at the moment. Catalogue and apply costs to them and estimate some potential savings you can associate with the PMO performing them compared to Project Managers or BAU personnel carrying them out
Help manage the portfolio add portfolio management techniques to your service menu to help prioritise projects and get business buy-in for the items you deliver as a PMO.
Compile figures for the costs and effort required to implement and operate the PMO and its services, and compare these with the potential returns that would be lost if the PMO was to stop operating or offering specific services. It may also be worth looking at the order in which services are offered or prioritised.
Look at your information in multiple ways and from as many angles and perspectives as possible.
Automate your processes wherever possible, for example, by building excel macros. Cranking handles and generating information automatically creates space for the PMO, allowing you to choose how to use the time saved; for example, do you continue to do the same for less money (or in a shorter timescale), or try and do more for the same money or same timescales.
So, in conclusion, how much is enough and how much is too much? Unfortunately, there are no simple answers it depends upon you and your organisation, where you are at the moment and where you want to get to. You must formulate your answer yourself, otherwise is wont have any value.
For more information see Chris's presentation slide set