London 'super sewer' to create over 9,000 jobs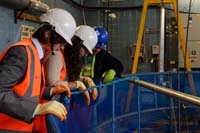 Thames Tideway Tunnel, dubbed London's 'super sewer', will create more than 9,000 direct and indirect jobs at the peak of its construction.
The 25km long tunnel will be built using 24 construction sites across London using six tunnel boring machines from five drive sites.
Last month the £4.2bn project was granted development consent by the Government's Planning Inspectorate.
Work will begin in 2016 to start a vital upgrade of the capital's sewerage systems in order to protect the tidal River Thames from increasing pollution.
London's sewers are no longer fit for purpose as it discharged 55 million tonnes of raw sewage into the tidal section of the river last year. This is the equivalent of eight billion toilets flushing straight into the waterway.
Originally designed for up to four million people, the current sewage system cannot cope with the population of London that continues to grow past the eight million mark.
This project will tackle the problem of overflows from the Victorian sewers for at least the next 100 years enabling the UK to meet European environmental standards.
Thames Tideway Tunnel CEO Andy Mitchell, who joined the project earlier this year from his previous role at Crossrail, said: "This DCO means we can improve London's river for the benefit of Britain.
"We appreciate the impact our construction work will have on some communities near our sites, but we will continue to work with them to keep disruption to a minimum."
Baroness Jo Valentine, chief executive of London First, said: "The system we have currently does not have the capacity to cope with the existing population, let alone support a city growing by 100,000 people a year."
"An additional 600,000 properties will need to be built by 2030, and each of those homes will need at least one toilet – we need the Thames Tideway Tunnel."
The Thames Tideway Tunnel is part of a wider programme of improvement works by Thames Water. The London Tideway Improvements include upgrades to five of London's sewage treatment works and the construction of the Lee Tunnel.
Image: Thames Tideway Tunnel Ltd