Lynn Crawford's contribution to profession recognised at APM Awards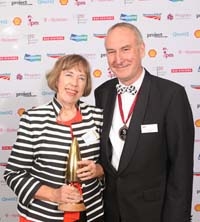 Dr. Lynn Crawford's achievements and contribution to the profession were recognised at Monday night's APM Project Management Awards sponsored by T-Systems.
The strategic advisor at Human Systems International Limited and visiting Professor at Cranfield University was awarded an Honorary Fellowship of APM and also picked up the Sir Monty Finniston 'lifetime achievement' award at the glittering ceremony in London.
Lynn (pictured with APM president Tom Taylor) has been involved in project management practice, education, and research across the world since starting her professional life as an architect.
She is presently Professor and Director of the Project Management Program at The University of Sydney and Adjunct Professor at Bond University in Australia.
At Human Systems International Lynn works with a network of leading corporations that are developing organisational project management competence by sharing and developing knowledge and good practices.
She is currently involved in numerous pieces of ongoing research including project and programme management competence, management of business change and differences in project management practices across project types and industries.
As a highly-respected academic Lynn provided the Australian contribution to an internationally conducted research project on the value of project management with results of other completed research projects being published across the globe.
She has been actively engaged in the development of global standards for project management since the late 1990's and has been instrumental in the formation of the Global Alliance for Project Performance Standards (GAPPS).
Lynn is a frequent conference speaker world-wide and lectures regularly in the UK. She is an avid supporter of APM activity and has been published widely on the topic of project management.