Making progress in an uncertain world webinar
Carolyn Limbert presented a webinar on 2nd October addressing the question 'how can programmes and projects take back control in a world that is full of uncertainty and change?'.
An APM webinar jointly organised by the Programme Management (ProgM) and Planning Monitoring and Control (PMC) SIGs. The webinar was ably hosted by Stephen Jones of the PMC SIG with the main speaker being Carolyn Limbert.
More for less, quality faster, increasing complexity
More for less, quality faster, increasing complexity
Carolyn began her fascinating presentation by introducing us to the world that we know and love: stakeholders demanding more for less, requiring higher quality faster and presenting us with ever more complicated landscapes in which to deliver.

The realities of delivery are that our certainty of scope and understanding of the how of projects and programmes changes over time.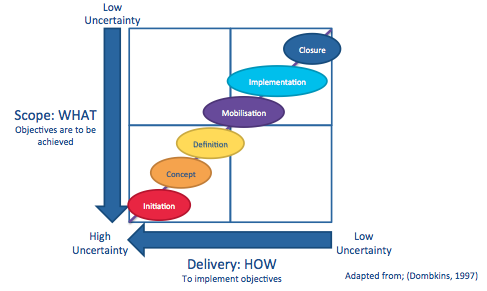 The traditional view is that understanding grows with time but this doesnt always work out in practise. Often because the first 4 steps are compressed into a short period at the beginning of the project when understanding is at its lowest. Something like this.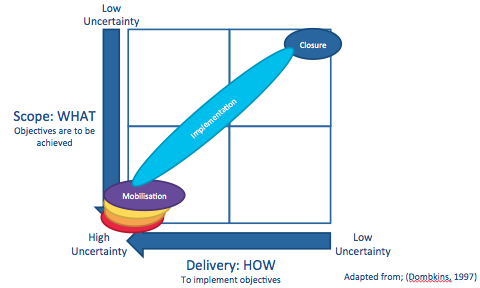 Many projects have incomplete objectives and poorly defined scope leading to high levels of uncertainty in delivery.
Perhaps we need a new view of project management to deal with this increasingly complex environment.
The traditional view of project management is that the 3 pillars, performance, time and cost all need to be controlled. This in itself is not easy and the Highway Research Programme has proposed not 3 but 5 pillars need to be considered, adding context and financing to the list.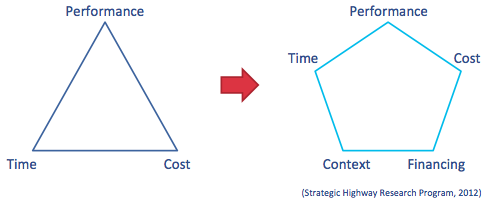 According to the ICCPM, The intrinsic complexity of projects, in part, is driven by political, social, technological and environmental issues, as well as tight fiscal pressures, end user expectations which may change dramatically during the life of a project, and government instability.
Carolyn then went on to focus on the complexity of the landscape that project managers may face and offer some techniques to help us cope with this. Even simple projects can be rendered very complex by changes in landscape!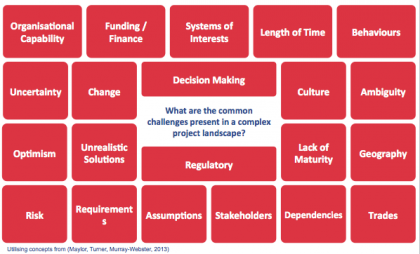 She focused on three core areas of complexity:
All projects have degrees of importance to the company and the array of stakeholders. The level of this importance will govern the complexity of the landscape. A project that lacks importance in the eyes of either the company or the direct stakeholders will also lack focus and this makes the project managers job harder.
Cultural considerations also play a part. What is the culture of the project team and does that differ from the wider culture in the organisation. Are they at odds or complementary? People, Power and Politics create behaviours which can block or positively affect projects; a divergence of views makes delivery more difficult. Each stakeholder has a subjective view, based upon their own experience and expectations and the project manager needs to take this all into account.
Key questions for the project manager to answer:
1.
How are you validating your perception of the landscape?
2.
Have you tried having open conversations about landscape perceptions? This can really help both your own understanding as well as the management of differing stakeholder expectations.
The size and pace of a project affect its complexity. Small & fast and big but straightforward can be equally complicated with extremely long projects introducing the added complexity of product obsolescence. And this is all before we have considered any questions of the complexity of scope and the challenges of technological innovation!
We need to consider the interconnectedness of our project with other activities within the business (see also
Disjoints, silos and the bow wave of change
on the APM blog) and also the internal relationships between activities within the project.
Consideration needs to be given to complexities introduced by team location. Time-zones, language and local cultural sensitivities can all make running the project more difficult.
We can also make our lives more difficult by adopting a project approach that is at odds with the engineering requirements of solution delivery. Wherever possible we should seek to marry up the required technical approach with our project management approach. Why make our lives more difficult than they need to be?
By adopting systems thinking we can give ourselves a better chance of managing the complexity.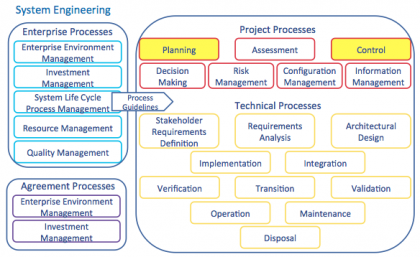 Bear in mind the following words of wisdom:
You cannot optimise a system by separately optimising its components
Focus on defining customer needs and required functionality early in the development cycle
Understand the whole problem before you try to solve it
Successful projects require a large amount of scoping and upfront planning. It is important to firm up the what and the how and not just dive in! Every project is a journey and you should seek to continue refining your understanding as you go.
Use the MoSCoW technique to capture and prioritise the requirements; use it to have the hard conversations up front about scope. Make sure everyone is clear on the Ms and the Ws!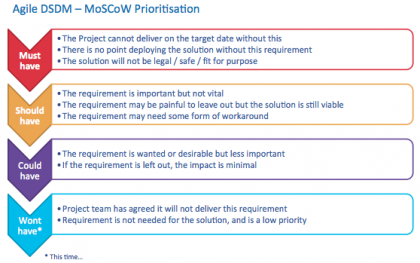 During delivery it is important to prioritise product testing and make proper allowance for whole system testing in the project life-cycle. It is common to significantly underestimate this area so be generous and systematic! Establish objective criteria for tracking the status of deliverables as well as providing the basis for their acceptance.
The lesson that the Agile community have learned is that by starting testing early, and including it throughout the programme, significantly reduces the likelihood of late-breaking (and generally unpleasant!) surprises.
Key questions for the project manager to answer are:
1.
How are you constantly testing that you are moving in the right direction?
2.
Does the customer truly understand what they are getting and are they in agreement?
3.
What are you doing to reduce surprises?
4.
Do you clearly understand the requirements and have they been effectively prioritised? Crucially, is this understanding reflected in the plan? Remember MoSCoW is your friend.
Under this heading, Carolyn drew out the dual impacts of uncertainty and risk.
Uncertainty is introduced by internal factors such as lack of experience, lack of information and also the strategic boldness or novelty of the proposed programme. External factors such as political shifts at government level and changes in markets also bring their own unique challenges.
Change is the project managers constant companion. This can be in terms of the; requirements, technology, stakeholders, organisation or anything else.
Risk overlaps with uncertainty but deals more with what can be predicted. Because emergent complexity is less predictable it is often overlooked in the risk management process. Yet, it is emergent risks that potentially present the greatest threat so more attention should be paid to them.
When identifying risks you should focus on the whole environment not just those things that sit within the sightline of the project.
Apples with Wednesday
Addressing emerging risks at a project level is comparatively straightforward and can generally be handled through trades. Time, quality and cost can be traded to come up with an acceptable outcome.
Trades at programme level are more complex and often involve comparing apples with Wednesday! Generally an iterative cycle of decision making is involved which gets you close to an answer but there is not necessarily a right answer.
All of this brings us to the thorny questions of influence and control. Generally programme teams have influence over the business case but very little control over delivery. Project teams on the other hand have control over their delivery (hopefully!) but very little influence over the wider picture.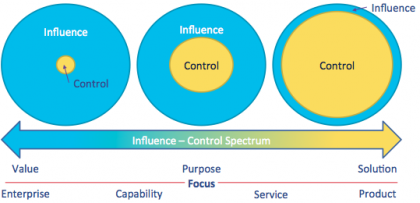 Over time the programme team can grow their level of control over delivery provided that a common language is established early on.
Key questions for the project manager to answer:
1.
What steps can you take to understand your level of control and influence?
2.
Do you share a common language with your stakeholders?
Control is typically maintained using a backward looking diagnostic technique. Progress reporting drives metrics about what has happened and why. This process can create a cottage industry churning out interesting statistics that foster the illusion of control. At its worst this process consumes a lot of effort and reports on failure.


We need to move to a more proactive posture. Metrics are truly useful when they are used to answer questions like what is likely to happen? and what should I do about it? If we do this then backward look reporting can be used to inform scenario planning and become truly useful.
In summary, understand upfront what success looks like and make sure that you understand the steps to get there. If you introduce objective criteria/steps for success you can reduce the impact of optimism bias.
Carolyn finished by proposing five things to take away:
1.
Map your environment and validate perceptions
2.
Understand your priorities
3.
Change happens - influence/control
4.
Do things right and do the right things
5.
Dont subjectively measure progress
She left us with two final questions for us to consider:
1.
Have we clarified the rules of credit for our project? What confidence do we have in our understanding of the level of completeness?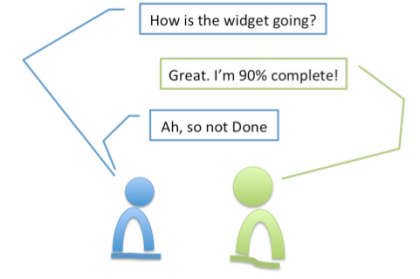 2.
On the pentagon: which one is most important to the customer?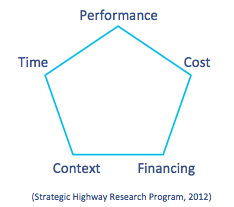 Carolyn Limbert
Carolyn works across multiple industries, focusing on Planning and Project Control systems within the P3 environment as a Principal Planner with Harmonic Ltd. Harmonic is an independent professional services provider which specialises in Winning Business and Project Delivery services for clients engaging in complex projects and programmes.
Carolyn is a committee member of the Planning Monitoring and Control Specific Interest Group (PMC SIG) and is currently working on a Planning Guide which will be published by the SIG late this year / early 2015.
Carolyn has experience in numerous replanning and schedule build-up activities across multiple organisations (BAE Systems, Lockheed Martin, Aircraft Carrier Alliance, Bombardier, AWE) and focuses on fully logic-linked, resource-driven Integrated Master Schedules (IMS) which supports the effective use of Earned Value Management (EVM).
Stephen Jones
Stephen Jones works in the Project Management Capability at Sellafield Ltd.
He is a Chartered Engineer and an APM Registered Project Professional with 13 years experience in the Nuclear Industry and 17 years in the Manufacturing Industry.
Stephen is the Chairman of the APM Specific Interest Group for Planning Monitoring and Control.
In his spare time he works for various academic institutions, he is a lecturer at the University of Warwick, a Professional Supervisor on the worked based Learning Masters Degree in Professional Engineering at both Aston University and Kingston University London. He mentors a number of Project Managers and Engineers in various industries both here in the UK and Indonesia, including Rail, Petrochemical, Manufacturing, Nuclear and conventional power generation.
Sellafield Ltd is the company responsible for safely delivering decommissioning of the UKs nuclear legacy as well as fuel recycling and the management of low, high and intermediate level nuclear waste activities on behalf of the Nuclear Decommissioning Authority. Sellafield Ltd has sites at Sellafield in West Cumbria. Engineering, design and functional support capability is provided by employees based at their Risley office, near Warrington.
Colin Parker
Colin has been a project manager since 1997 and a member of the APM since around 2004. Before going freelance in 2007 he fulfilled a number of roles, including Project Manager, Service Manager and Operations Manager for a Software House.
Since then he has been busy working for a number of large clients including Thames Water, Veolia Water, Vennsys and Babcock.
His work generally includes a mixture of IT and business change with a recent focus on large contract transition management in the water utility sector. Recent projects have included an IT Infrastructure transition, Waste contractor business transition and an ERP selection project.
He has been described as being relentless in his attention to detail without losing sight of the big picture and enjoys the challenge of helping clients to get their stuff done.