Map for England: have your say
Research commissioned by the Royal Town Planning Institute (RTPI) shows that individual government departments currently have more than 100 major maps which relate to policies and programmes on the economy, transport, communications, housing and the environment in England. However, as of yet there is no single place or data source within government that makes all of these maps available to view together.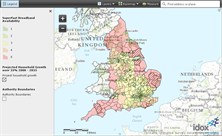 The Confederation of British Industry has estimated that even before new infrastructure becomes operational, the building of it will generate 2.84 to the economy for every 1 spent, of which 90p is retained in the local economy, justifying how important it is to ensure good, joined-up planning of this sector to support the growth agenda of the nation.
Considering this, the RTPI has been facilitating a debate about whether we need a map for England, to provide a truly joined-up approach to planning infrastructure and services.
The Map for England could help policy makers make better judgments about how individual policy proposals interact with and affect development of the country as a whole, as well as provide a manageable way of presenting publicly available information in an open and standardised format. This could, in turn, help to both boost growth and save time and money by providing the information needed to encourage quicker and better informed investment decisions. This is particularly important at a time when the Chancellor confirmed in last years Autumn Statement that there is still much to be done across all government departments if we are to attain positive growth in the coming years.
In order to further the debate into whether we need the Map for England the RTPI, in conjunction with software specialists Idox, have launched a pilot website of the Map for England. This will be live until March 31st 2013, and will continue to be developed throughout this time. Users can choose to view which layers are most applicable to them, in order to provide a better understanding of how different nationally significant datasets relate to one another.
The debate into whether there should be a Map for England is continuing, and RTPI want to further develop the project through your views. If you wish to participate in this consultation you will find a link on the CIC website or join the debate on Twitter @rtpiplanners or #map4england, but hurry as the consultation period ends on 24th January 2013.