More ways to buy APM ebooks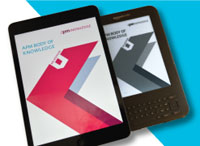 APM publications are now available from the Apple iBooks Store as well as other leading retailers.
Members (and non-members) can download digital versions from APMs backlist straight to their Nook, Kobo ereader or Apple iPad.
Kindle books from Amazon are already available. This latest move opens up the market to APM ebook consumers. The full list of APM approved retailers is shown below:
Amazon
Apple
Barnes & Noble
Kobo
Scribd
Additional retailers the Great British Bookshop and Ingram will be added over the next few months.
As well as greater choice, the availability of different formats epub and mobi (Kindle) versions will go a long way to improve the reader experience.
Epub is the closest thing to an industry standard for ebooks, and works on most ebook readers, while Mobi is owned by Amazon. That means more compatible devices from which to access the content. Popular brands such as iPad, iPhone, iPod Touch, Nook, Kobo, Google, Sony, Samsung are all epub-friendly.

Ebooks are typically priced lower than their printed counterpart, with savings of up to 40% in some cases. They also have the added advantage of the text being reflowable, not static, meaning the content is easy-to-read and navigate on any device, no matter how small.