Mott MacDonald gain APM Corporate Accreditation
APM are delighted to announce that Mott MacDonald have recently gained APM Corporate Accreditation for their Project and Programme Management professional development programme. This is a great achievement as it allows Mott MacDonald to demonstrate to their customers, suppliers and employees that they are committed to the highest standards of project management professional development.
Chief Executive of APM, Andrew Bragg, said: The Association for Project Management is proud to award corporate accreditation to Mott MacDonald. Within APMs professional community, organisations of every type have an important role to play in raising the bar of project professionalism, and as a global employee-owned consultancy Mott MacDonald have shown their commitment to this cause.

Accredited companies are able to attract and retain the best project management talent in the country. The assessment of an organisations professional development scheme gives stakeholders confidence of its dedication to developing project professionals. The Mott MacDonald Group is a diverse management, engineering and development consultancy delivering solutions for public and private clients world-wide.
As one of the world's largest employee-owned companies with over 14,000 staff, Mott MacDonald has principal offices in nearly 50 countries and projects in 140 and uses its experience and resources to help deliver projects on any scale, shape and implement development policies and programmes as well as advance sustainability.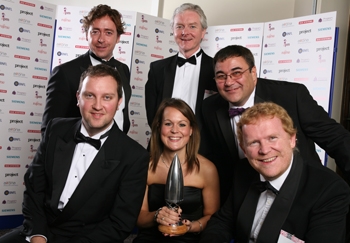 When asked what gaining Corporate Accreditation meant to them, David Phillips (pictured bottom right), Practice Leader for Mott MacDonald said: "We are proud that our development work to promote best practice in project and programme management has been recognised by the APM. Importantly it demonstrates clearly to our staff and clients our commitment to the highest professional standards and playing our part in moving the profession forwards.