North East branch corporate event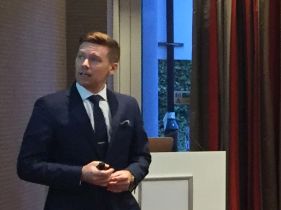 The North East branch held a very successful meeting of their regional Corporate Members Leadership Group, bringing Higher Education together with Corporate members to look at how graduates are recruited and trained by employers of project managers, both large and small.

Stuart Clarke represented the public sector, briefing the meeting on Nexus's new Graduate Project Manager programme; Richard Brown represented the large corporates with a presentation on WSP's graduate development scheme whilst the SMEs were represented by members of the audience.
The presentations sparked a lively debate. Three key areas stand out from the discussions:
• In considering potential project managers, employers are more interested in the potential to tackle complex problems demonstrated through intellectual dexterity over a knowledge of specific project management processes and practices.
• The structure of graduate development schemes vary significantly between organisations. A good scheme will have to balance the needs of the organisation with those of developing the individual.
• Graduates aspiring to become project managers are looking for a career and expect to see some indication of clear career progression (through achieving chartered status with the APM) from graduate to experienced project manager.
The debate demonstrated a clear desire on behalf of all parties to work together more closely in preparing graduates for opportunities in Project Management. It was clear from the debate that there is currently a gap between the skills and experience of graduates presented at interview and those sought by potential employers. The branch will be organising a follow on meeting between representatives of the North East's Higher Education establishments and employers to further explore how to close this gap. This meeting will be by invitations only, APM members interested in attending should contact the branch chair.
Duncan Ross Russell CEng MEng MSc MIMechE MAPM MInstRE
APM North East branch committee member