It's the first posting of your career. Of course you want to go somewhere exciting and challenging. But Afghanistan? Many of us might have politely asked to hear the alternatives. For Shane Cooney, however, Afghanistan was the perfect opportunity to show what he can do.
"It was the ultimate baptism of fire," recalls the 31-year-old Dubliner. "Yes, it was dangerous. I was nervous. And I don't come from a military background, so it was a totally new experience for me – but the steep learning curve is what motivated me."
Cooney had completed a degree in construction technology at Dublin Institute of Technology (DIT) before moving to Edinburgh to study project management at Heriot-Watt University. "Most of my friends from DIT took the quantity surveying route," he says, "but I'd always been organising stuff for friends, always in the middle of it, so the natural route was into project management."
He landed a job in Leatherhead, Surrey, with KBR, which took a quick look and decided the best place for him was Camp Bastion. "It was all kicking off," he recalls. "One of my projects was to support NATO forces at Kandahar Airport, which at the time was the world's busiest single-runway airport."
Despite being the new kid, Cooney was sent on two-week missions as a commercial manager. "It involved everything from responding to client change requests to handling disputes and contract conflicts," he says. The job also encompassed supplying services to the embassy in Kabul, and to Kandahar Airport: "We were responsible for managing the airport from a hard facilities-management perspective – making sure the runway was in good condition and providing cargo movements."
Another aspect of his role was to provide infrastructure support to NATO – one job was leading a 10-person multiskilled team to conduct a due diligence inspection of more than 150 buildings in Kandahar. Later, the role incorporated the provision of soft services to the British Embassy in Baghdad.
Grace under pressure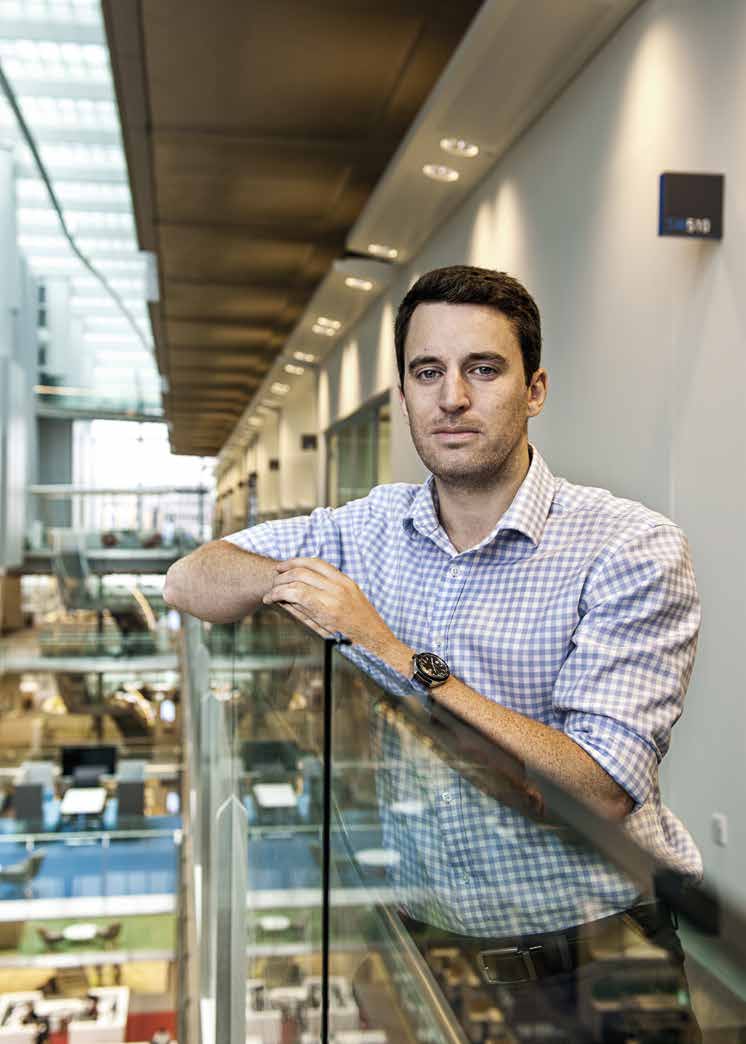 Talking to Cooney, it's easy to see why he made such a success of the posting. He instinctively frames difficulties as opportunities. Although Cooney admits negotiating with the army pushed him, he saw it as a way to hone his talents of persuasion. "I learned a lot working with the military," he says. "It's really important to convey the advantages of the proposals and to develop a solution that meets the client's objectives, while ensuring it is still commercially viable for our business."
His attitude must have helped. He's enthusiastic, energetic and laughs a lot when he speaks. In a war zone these qualities are more than a plus – they are compulsory.
His upbringing was also a boon. "My father is a builder," he says. "So, from a really young age, I was on construction sites, and I was also fortunate to do work experience one summer with Ferrovial Agroman." Indeed, when tasked with gaining the confidence of army majors concerning issues such as runways, it certainly helps if you feel at home on a construction site.
Fast risers often ensure their career encompasses many different facets of project management, and Cooney is a prime example. After Afghanistan, he worked with the Metropolitan Police on procurement support, developing tender documentation and evaluation. His comrades this time were lawyers and commercial accountants. "I learned that surrounding yourself with specialists is vital when procuring on that scale," he says.
High flier
In December 2014, Cooney made the move to engineering giant Arup, and Heathrow Airport. "It was a project management role, encompassing design coordination and working with different disciplines," he explains. "Heathrow is massive. It means lots of different conversations with multiple stakeholders, and considering many layers of details."
Cooney is now an Arup adaptations project manager at the Francis Crick Institute, a £650m world-class biomedical research centre near King's Cross station in London. He works with scientists and construction teams to fine-tune the facility.
To other project managers, Cooney's advice is to keep learning, find great mentors and focus on detail. He also suggests that, when things go wrong, it is important to admit to the errors as soon as possible.
He owns up to one mistake early in his career regarding a proposal, which he underestimated. "I put my hands up, came clean and looked for support to fix it. A lot of people try to cover up mistakes, or push responsibility and fault, but I firmly believe we need to be accountable and responsible for our decisions and actions."
His positive mindset and easy-going chat aren't accidents, either. "A former colleague and mentor called David Chisholm used to say 'Keep smiling.' It sounds basic, but this simple saying is powerful in the sense that we need to enjoy what we do, and if we do then generally we tend to perform better. A smile is infectious."
So what's next for our rising star? "I think it's important to keep finding new challenges," says Cooney. "If something seems tough then it's probably worth doing. That's what I'll be doing, searching for new experiences so I can keep growing and learning."
---
 Charles Orton-Jones is a business journalist and editor.
---
Shane Cooney
Age: 31
Current position: Senior project manager
Current employer: Arup
Years of experience: 7
Qualifications:
• BSc construction project management, Heriot-Watt University
• BSc construction technology, Dublin Institute of Technology
• APMP (now known as the APM Project Management Qualification)
• Construction Skills Certification Scheme card holder
• Full member of APM