Portfolio Management and Benefits Management - Thoughts from the Top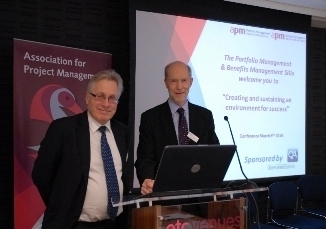 Pictured above: Nick Wensley, Chair of the Benefits Management SIG, and Stephen Parrett, Chair of the Portfolio Management SIG
In their first jointly organised conference, the Portfolio Management (PfM) SIG and Benefits Management (BM) SIG hosted around 80 people at the ETC in Hatton Garden, London on 6th March for a packed agenda of speakers, workshops and other interactive sessions.

The theme of the day was "Creating and sustaining an environment for success" and attendees were given a wide range of well-crafted presentations from senior practitioners, highlighting many insights into how to develop the right approach and create the conditions that will provide the greatest chance of sustainable PfM and BM.

An inspirational start was given by Dr Norma Wood, who proposed that when seeking senior level support for portfolio management and/or benefits management it is wise to approach the task in terms of a negotiation in the light of the organisational context rather than an education based on logical merits.

This set the tone for top-quality presentations from the speakers that followed, with several observations running through the conference, including:
Senior executive support is paramount for successful/sustainable PfM/BM
Use language relevant to executives/stakeholders, avoiding jargon
Drive, enthusiasm and resilience is required by those driving PfM/BM forward
The power of pictures, using a "wall" of information to illustrate portfolio/programme status
Create standard processes/terminology for consistency, but apply pragmatically
Clear, simple and relevant reporting retains executive focus (but have full analysis for credibility)

The speaker sessions were complemented by workshops, during which delegates identified some of the challenges, problems, and issues encountered (plus potential solutions/answers) when "creating and sustaining an environment for success". Over 100 ideas emerged, and these, together with other outputs from the conference, will be reviewed and used for further development by both SIGs in support of future knowledge development/sharing activities.

Speaker list:
Dr Norma Wood, Interim Director General of the Major Projects Authority, Cabinet Office
David Airey, Chief Information Officer, London Borough of Haringey
Karan Bawa, Head of Programme Management Office, B&Q (APM PM Company of the Year 2013)
Rebecca Kearney, Corporate Programme Manager, Town Clerk's Department, City of London Corporation
Helen Preston, Benefits Management Leader, Heathrow Airport Limited, and Chris Beach, Partner, Programme and Project Management, EC Harris
John MacGregor, Head of CLE Project Management Capability, and Jim Luffman, Corporate Head of Project Management, Rolls-Royce plc
David Waller, Managing Director, Keldale Business Services Ltd (presenting NHS experience)
Peter Glynne, Head of Portfolio Delivery, Westminster City Council
Edited videos of the presentation can be viewed by clicking on the play button.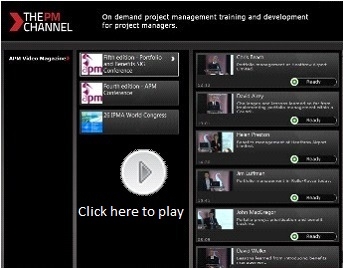 Sponsored by