Portfolio Management - making it work for you and your organisation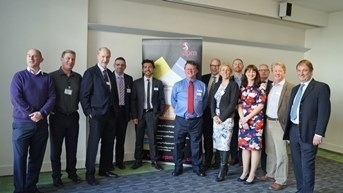 The Portfolio Management (PfM) SIG hosted a packed full-day conference in London on 22 April with nearly a 100 portfolio managers and other change professional participating in a highly interactive set of presentations, workshops and stimulating debate.
Top quality presentations from senior practitioners across many business sectors, demonstrated a variety of approaches for making portfolio management work, including many insights into the techniques they used to prioritise and manage their portfolios.
The conference was introduced by Stephen Parrett (SIG committee chair) who set the context for this year's conference, emphasising how its objectives would contribute towards the SIGs overall aims.  Further information can be seen below.


Portfolio Management SIG conference 2015 overview
from
Association for Project Management
Karl Reilly opened the presentations, providing analysis from PwC's 4th Global PPM survey. This included the need to understand the corporate strategy, be flexible in delivery, talk the language of the business and stakeholders, and use the right data to measure performance and drive decision making. The statistics and insights Karl provided were thought provoking and showed that whilst portfolio management was now recognised as a discipline in itself, it is still relatively immature.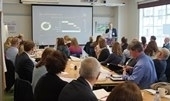 Many of the presenters built on these views and showed how they had moved forward significantly and added their own interpretation to reflect their particular organisation and business environment, such as finding effective ways of managing their portfolios and delivering value, often overcoming considerable resistance.
Points which resonated most strongly through the day included:
Opportunities for moving PfM forward often co-incide with the arrival of new executive management. For example, they may have seen it work well elsewhere, want to use it as a technique to achieve key financial or business targets, or are more receptive to the merits of PfM.
Crucial to getting the support and understanding required, PfM must be discussed in language that is directly relevant to the executives, other stakeholders and specific functions (e.g. HR, Legal and Finance).
Whilst processes, templates etc are important for consistency, it is vital to spend time explaining to executives what PfM can do for them at a personal level. Project/programme managers also need to be convinced how the PfM team can support them in achieving their objectives.
Similarly with reporting; a regular message was the need for simplicity (fit for the audience) which, with good underpinning analysis of accurate, consistent information, builds trust and leads to confidence in the PfM team and, more importantly, their recommendations.
Flexibility in the application and use of PfM in organisations that embrace different cultures and traditions helps build collaborative relationships and enables the diverse expectations to be met.
The next steps are to further analyse the outputs from the conference, both the presentations and the workshop, and summarise for SIG members. In addition, look out for an article in the September issue of Project.
| Name | Subject |
| --- | --- |
| Julie Black, Associate Director, Project Management Group, Ofgem | Establishing a portfolio management capability |
| Julia Hodkin, Head of Change Portfolio Management Office at Yorkshire Building Society Group | Linking portfolio delivery to strategic objectives |
| Tim Hopkins, Portfolio Office Lead in Westminster City Council's Change and Programme Management Unit | Operating portfolio management in local government |
| Paul Morgan, Regional Demand & Portfolio Manager, SAB Miller | Local to regional portfolio management |
| Adrian Pyne, Senior Associate at Provek, PMO Architect at Gatwick Airport | Organisational project management flies into Gatwick |
| Karl Reilly, Senior Consultant at PricewaterhouseCoopers | Portfolio management insights from PwC's 4th Global PPM survey |


The SIG is also conducting a 2015 Portfolio Management survey, probably one of the largest if its kind.