Procurement of large infrastructure projects focus for video magazine [Video]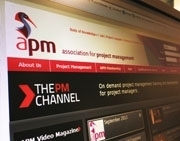 APM's video magazine this month looks at large public sector infrastructure projects with particular focus on procurement.
Provided by The PM Channel, January's edition has contributions from many different organisations involved in these mega-projects including Bechtel, High Speed 2 (HS2), Turner & Townsend, Glasgow 2014 and National Audit Office (NAO).
All content has been filmed at APM events along with commissioned interviews from Costain and a leading independent consultant combined with selected content from the 26th IPMA World Congress in Greece.
View the video magazine for APM from The PM Channel today
Douglas Oakervee, former chairman for High Speed 2, spoke at last year's APM Project Management Conference. He explains the guidance and advice being given to the Secretary of State regarding the hybrid bill necessary for phase 1 of HS2.
Bill Hewlett, technical director of Costain draws upon his great experience to explain the importance of matching the form of procurement to the project's complexity. He shows how the different forms of procurement should be used.
Ailie MacAdam is an award-winning project director with experience on mega-projects across the globe and joined Bechtel over 26 years ago. She spoke at the 2012 APM Conference and is currently delivery director for Crossrail, the new railway line going through the heart of London. She describes some of the procurement challenges for Europe's largest engineering project.
Craig Sloan was head of programme management and risk for the Glasgow 2014 Commonwealth Games when he spoke about balancing the delivery of an outstanding sport event, whilst meeting the bid commitments. He also covers the obligations of the contract as well as supporting the aspirations to leave a lasting legacy. The Glasgow 2014 Commonwealth Games is also the focus for this year's Scottish Conference.
Toby Kliskey, director of Turner & Townsend Project Management Ltd, advocates a systematic approach to managing change in public sector projects – meeting success criteria with constantly changing parameters and constraints.
Tim Banfield is a director of NAO and has specialised in the examination of public sector acquisition issues for almost 25 years. He has led and contributed to the production of over 100 published reports. Speaking at the 2013 APM Conference, he gives his views on designing projects for success.
Dr Steve Simister, an independent consultant, talks about the two main factors affecting the selection of a client's procurement strategy and goes on to describe the four main approaches. He explains their pros and cons briefly and how each approach relates to risk transfer.
Two contributions from the IPMA World Congress by Bob Dignen and Hans-Petter Kraner on the challenges of large projects conclude this month's video magazine.